Luis Suarez: Liverpool say Uruguay striker not for sale
Last updated on .From the section Football1101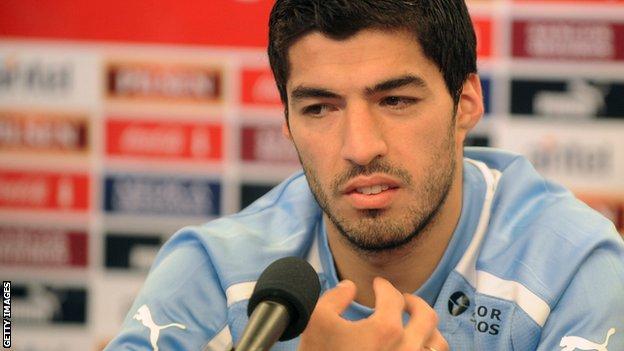 Liverpool insist unsettled Uruguay striker Luis Suarez is not for sale.
The 26-year-old's future has been put in doubt this week after he said "now would be a good time to move".
A Liverpool spokesperson said: "Luis Suarez is not for sale. Neither Luis or his representatives have communicated these feelings directly to Liverpool.
"The club remains supportive of Luis and expect him to honour his contract. The club will not be making any further comment at this stage."
Suarez has been a big success since signing for Liverpool in January 2011, scoring 30 goals last season, but he has often been a controversial figure.
He was banned for eight games for racially abusing Manchester United's Patrice Evra two years ago and is currently serving a 10-game ban for biting Chelsea's Branislav Ivanovic.
The Uruguayan admitted on Wednesday it "would be difficult to say no" to Spanish giants Real Madrid, who have been linked with him.
And on Thursday he added: "It's a good moment for a change of environment because of all I've been through."
Suarez, who Liverpool signed for £22.8m from Dutch side Ajax, told a news conference in Uruguay: "If it was for the financial side I would be gone to a different country already."
And citing his treatment by the media in England, he went on: "I am prioritising my family and my image. I've been through tough moments. Some team-mates and the manager know what I have been suffering and been through.
"I have been treated wrongly and I was not happy with it and I think that it will be understandable if one day I decide to leave Liverpool."
Suarez, who missed the final four games of last season and will sit out the first six of the 2013-14 campaign after being found guilty of violent conduct for biting Ivanovic, was speaking ahead of Uruguay's friendly with France in Montevideo on 5 June.