Owain Tudur Jones relishing Hibernian 'challenge'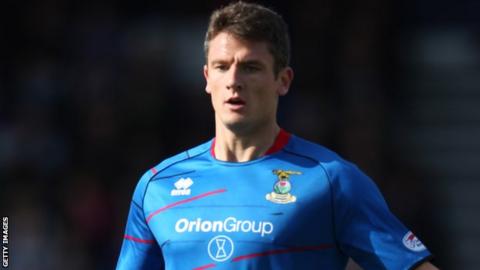 Wales midfielder Owain Tudur Jones has said he wanted a new challenge after rejecting a new offer from Inverness Caledonian Thistle to join Hibernian.
The 28-year-old former Swansea City and Norwich City player has signed a two-year deal with the Easter Road club.
The Welshman will join Pat Fenlon's side in the summer once his contract expires at Inverness.
"It's an opportunity to freshen things up. I see it as a new challenge for myself," Jones told BBC Radio Wales.
"The offer was there to stay at Inverness for another two years.
"But I just felt at 28 years of age to stay there would have been fine but it was somewhat of a comfort zone.
"Who knows how long I've got playing football, be it three, four, five or six years?
"In that time I want to make sure that I challenge myself."
Inverness Caledonian Thistle missed out on Europa League qualification following a 1-0 defeat at Ross County on the final day of the Scottish Premier League season.
Jones' new club Hibernian will play in the Europa League next season despite losing 3-0 in the Scottish Cup Final to Celtic, who had already qualified for the Champions League as SPL champions.
But the Welshman said European football was not the main factor behind his decision to leave Inverness CT after two years at the club.
"The question was asked at Inverness, when the contract was offered, whether or not me signing was dependant on the club getting into Europe, which they failed to do in the last game of the season," Jones added.
"It didn't have any affect at all if I'm being perfectly honest.
"I was lucky enough to play in Europe for Bangor early in my career and it's something great to look back on. But it certainly wasn't a deciding factor.
"It's something to look forward to.
"We go in the second qualifying round and who knows if we get a good draw and do well there the possibility of facing Swansea in the third qualifying round is a tasty one for me."