Luis Suarez: cynical comments give Liverpool new headache

By Phil McNulty
Chief football writer
Last updated on .From the section Football896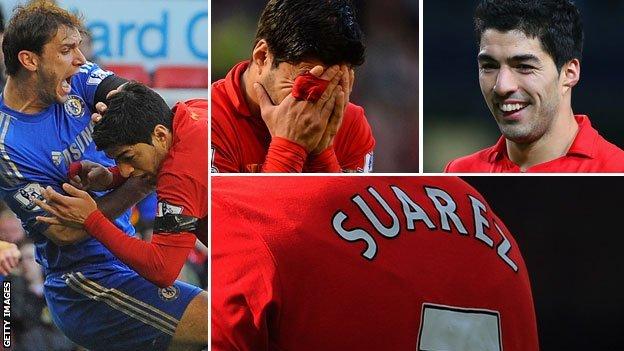 Liverpool's strongly worded response to the public agitation of Luis Suarez is as predictable as the apparent exit strategy being utilised by their world-class striker.
Suarez is anything but predictable with a football at his feet - but the timing, location and excuses used in announcing his discontent with life in England all fall into that category.
Liverpool reacted pointedly and swiftly to interviews given in his native Uruguay this week in which the 26-year-old sent some less-than-subtle coded messages to his club and also to potential suitors.
They insisted that if Suarez was unhappy with his life in Liverpool, stretching his credibility to breaking point by suggesting he is the victim of torment by a cruel media, it is not a complaint he had registered directly with them.
Liverpool also reminded Suarez that he has a contract to honour at Anfield and, with some code of their own perhaps, added that they remain "supportive" - just as they have when he inflicted some fairly hefty blows on their global image.
Suarez, however, does seem set on engineering his departure from Liverpool and is following a well-worn track to do so. Returning to his Uruguay homeland, where he is worshipped and guaranteed a sympathetic hearing, he paints a picture of a poor soul whose life is being made a misery by a British media intent on hounding him, even suggesting the paparazzi make it impossible for him to go into his garden or visit the supermarket.
Nonsense of course.
The trouble Suarez has had since his arrival in England from Ajax has largely been of his own making as he was banned for eight games in December 2011 after being found guilty of racially abusing Manchester United's Patrice Evra and suspended for 10 games - a punishment will stretch into next season if he sticks around - for biting Chelsea's Branislav Ivanovic at Anfield in April.
It may come as a surprise to Suarez that his life might have been a lot quieter, and his media profile a lot lower, had he not been involved in those two incidents, as well as refusing to shake Evra's hand when Liverpool then met United at Old Trafford.
This was his doing, not the media - although his use of these reasons may make selling him a little easier and more palatable for Liverpool. Suarez's words make a decidedly hollow sound.
The reality, however, may be that it has dawned on Suarez that he is the stellar performer in a Liverpool team that shows no current signs of returning to the Champions League and reported interest from Real Madrid, Bayern Munich and Juventus will give him the sort of platform his talent deserves.
Make no mistake, for all his obvious flaws, this is a magnificent striker who would grace any football team anywhere in the world. Judged on his natural gifts alone, he deserves a place on the biggest stage.
It is the excess baggage he carries with him that means he as likely to be remembered for his unsavoury deeds on the pitch as much as what he offers as a player.
And as Liverpool and their supporters, most of whom have also pledged blind loyalty to Suarez despite his track record of poor behaviour, wrestled with the dilemma now facing them you suspect they might have sympathised if he had simply said he wanted to play in the Champions League at a more successful club.
They may not have liked hearing it - but they might have understood.
Blaming the media is going straight for the cheapest option, a flimsy fig leaf to disguise what most suspect are his true intentions.
In the days after Suarez's bite on Ivanovic, Liverpool were again hugely supportive of Suarez. Everyone at Anfield knows how vital he is, how he was almost single-handedly their main threat until the cavalry arrived in January in the shape of Daniel Sturridge.
This is why they will not countenance that Suarez wants to leave until they hear it from him. And of course they are hardly likely to suggest he is for sale - there is the price of a £40m asset to protect.
Suarez, in truth, owes Liverpool. They stood by him, wrong-headedly at times, during his troubles and might expect some gratitude in return. Modern football, however, does not work that way - and of course clubs are just as willing as players to manoeuvre a parting of the ways when it suits them.
Liverpool do not need this to be a summer-long saga. They need to clarify Suarez's intentions quickly and then act accordingly.
If this is simply a temporary period of unhappiness (very much the glass half-full option) then they can move the scenery along. If he wishes to leave they need to go about securing the best deal as soon as they can - not simply to rid themselves of an unhappy player but also to give manager Brendan Rodgers the time and money required to somehow replace the loss of one of the best strikers in world football.
These are the days plenty at Liverpool feared when he was given a 10-match ban by the Football Association. Now they must give Luis Suarez their full attention once more.