Man City set to appoint new manager 'in the next two weeks'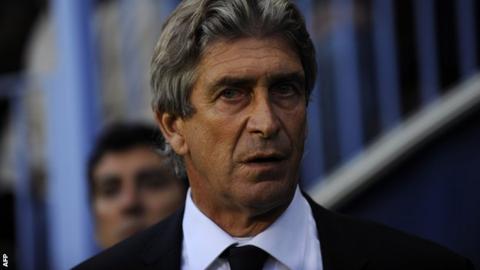 Manchester City expect to appoint their new manager within the next two weeks, says chairman Khaldoon Al Mubarak.
Malaga boss Manuel Pellegrini claims he has a verbal agreement to succeed the sacked Roberto Mancini at the Etihad.
The 59-year-old Chilean has been widely expected to take over as City's manager after Mancini's departure on 13 May.
Al Mubarak told the club's website: "We are pretty much done. We are very close and I expect to make an appointment in the next two weeks."
The City chairman says the club's new manager must try to win every trophy on offer and significant transfers funds will be available to help achieve that aim.
City failed to successfully defend the Premier League title they won in 2011-12 as they finished runners-up to Manchester United, and suffered a shock defeat by Wigan in the FA Cup final.
"Will there be new signings? Absolutely. This is going to be a very important year for us," Al Mubarak added.
"We will have a new manager on board in about two weeks. That manager, from day one, has a responsibility to prepare a team for us for next season.
"A team that will be able to compete to win every competition we are involved in.
"In order to do so there's no doubt the team has to be constantly improved, has to constantly evolve. This year I think we need to improve the team.
"The manager will obviously have to make these decisions. I can assure you we will support him."
City failed to make an impact in the Champions League under Mancini and Al Mubarak admits the new man must rectify that.
He added: "We've won the Premier League before, we know what it takes. We can do it again, and we will do it again. We know what it takes to win the FA Cup.
"We haven't been successful in Europe and in the Champions League two years in a row. That is an area that no doubt will require a lot of improvement."