Nigeria held by 10-man Mexico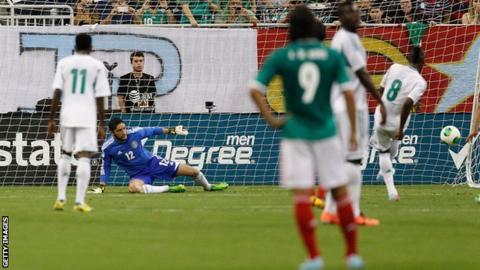 Nigeria were held to a 2-2 draw by 10-man Mexico in a friendly played in Houston, USA on Friday in front of a mostly pro-Mexico crowd of 62,107.
Manchester United's Javier Hernandez gave Mexico a 1-0 lead in the 21st minute, taking a cross from Pablo Barrera and sending a low line drive inside the near post from 9 yards.
Brown Ideye converted a penalty in the 29th minute to equalize, with Barrera being sent off for handball in the box.
Nigeria capitalized on being a man up, taking the lead in the 40th minute as John Ogu shot from outside the box was deflected by Mexico's Diego Reyes and into the goal.
Nnamdi Oduamadi had his shot bounce off the crossbar in the 63rd minute, and Mexico made the most of that reprieve when Hernandez equalized in the 70th minute, tapping in an Angel Reyna cross.
Nigeria coach Stephen Keshi played down the fact that the Super Eagles played for so long with an extra man.
"We should have won convincingly because they had 10 men and we had 11? It doesn't play out that way," Keshi said.
"You have seen many games I'm sure where you have seen 10 men come back to win a game against 11.
"It's just how guys pursue yourself, how you address yourself on how you played.
"We were up, and we were thinking that was it. We lost our focus and concentration, and they came back to score.''
Mexico coach Jose Manuel de la Torre said he was happy with how his team handled being a man down.
"It's always important that your team be able to adapt to any circumstances,'' de la Torre said. ``You have to be able to focus on what you can make a change on, and that's what my team did today."