Patrice Carteron joins up with DR Congo's TP Mazembe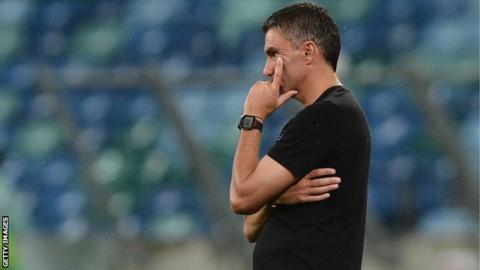 Patrice Carteron has flown to Mozambique to join up with his new club TP Mazembe to see them in action against Liga Muculmana in the Confederation Cup.
However he will not take charge of the second leg of the play-off tie, which the DR Congo side lead 4-0 from the first leg, assistant coach Pamphile Mihayo will look after the team instead.
The Frenchman says that the Mali Football Federation (Femafoot) has rejected his offer to continue as the Eagles coach for their upcoming World Cup qualifiers.
He says that he flew to France this week for Mali's training camp but was told by Femafoot vice-president Moussa Konate his services were no longer required.
The former St Etienne and Rennes player has also denied Femafoot's claims he unilaterally breached his contract.
"My contract [with Mali] runs until July 2014 and had several break clauses in it," he explained.
"In the first place I had to qualify for the 2013 African Cup of Nations and then reach at least the semi-finals, the second step was to reach the 2014 World Cup in Brazil.
"So you can see it was a stringent contract and that same contract didn't prevent me from signing with a club and continue as the national coach."
He went onto say that he is not concerned by the news that Femafoot are going to make a complaint to Fifa.
"I will let justice do its work," he said.
He insists that he had tried to engage the federation in discussions about his future.
"I only actually sent my formal resignation on 28 May. My first threats to leave were intended simply to get a reaction from vice-president, Moussa Konate, but he seems unable to handle the situation."
It means that Pathe Diallo is set to continue in temporary charge of Mali for their upcoming 2014 World Cup qualifiers against Rwanda and then Benin.
Mali are currently level at the top of Group H alongside Algeria, both sides have six points from their three matches so far, with only one side advancing to the final round of qualfying.