Truro City: Company Voluntary Arrangement agreed with creditors
Last updated on .From the section Football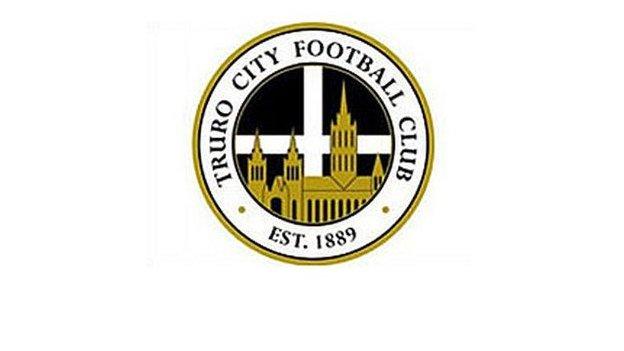 Truro City's owners have agreed a deal with all the club's creditors.
A Company Voluntary Agreement (CVA) has been arranged which takes debts of up to £4.5 million down to around £80,000.
It means Truro, who were will drop just one division to the Southern Premier League, rather than three divisions.
"It's a relief, we've worked very hard to get this far and it's the start of a new future," co-owner Philip Perryman told BBC Radio Cornwall.
Perryman and fellow businessman Peter Masters after former owner Kevin Heaney went bankrupt.
"For a long time we couldn't see a light at the end of the tunnel, and me and Peter felt that even with the money we'd invested there was no light at the end of the tunnel," Perryman continued.
"Now it's come to an end, we see a light and we see a future, and we feel very happy with that."
Truro will pay their £80,000 debt over a period of three years and they now go into Saturday's Football Conference annual meeting knowing that they should avoid being relegated three divisions to the Western Premier League.
Had they not restructured their debts by 8 June they would not have been allowed to join the Southern Premier League.
"Some of the debts were questionable, which the administrator looked into," Masters said. "Others were bona fide and with the goodwill of creditors they've written their debts off.
"We're now hopeful things will go through on Saturday morning and we'll be in the Southern Premier League, which is fantastic."
Truro have yet to announce who their new manager will be, having after the club stated it could no longer afford to pay his wages.
"We've got a manager lined up and a team lined up," Masters added. "Yes, we've got new players, but I don't think that's a bad thing. We want fresh blood in here, we want younger blood and local players as well.
"We want Cornwall to participate in Truro City Football Club, we are the highest in Cornwall and we intend to stay that way.
"The aim now is to take the whole thing forward and if we can get back into the Conference within the next couple of seasons then great."