England chances hurt by absent players, says Stuart Pearce
Last updated on .From the section Football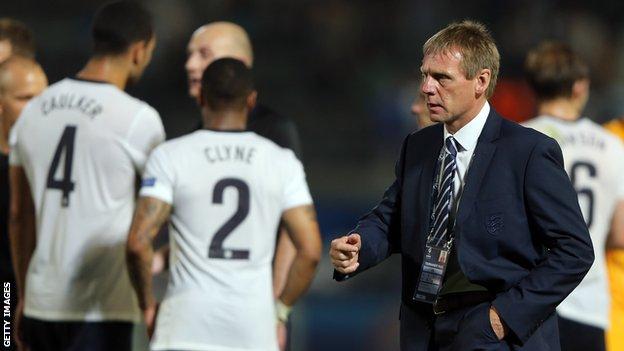 Stuart Pearce says England do not give themselves a chance of winning tournaments when key players cannot be selected.
The England Under-21 coach was unable to take certain players to the European Under-21 Championship because of their senior team commitments, injuries or an unwillingness to be selected.
England lost their first match of the tournament 1-0 against Italy.
"If you don't bring your best then you have to take your chance," said Pearce.
"I'll tell you now what you have to do to be successful at senior level. You have to qualify with the best team, you have to take your best team to the tournament and you have to give young players as much tournament experience as possible before they step up to the senior team."
The former England defender added: "You can guarantee you'll lose four or five players through injury [when choosing a squad].
"Then obviously there are one or two players who don't want to, which ever way you like it, give up their summers to represent their country and that's the way it is.''
Luke Shaw, Callum McManaman and Raheem Sterling were all unavailable because of injury while Andros Townsend had already voluntarily withdrawn from the squad when he was fined and given a suspension by the Football Association for breaching betting regulations.
Jack Rodwell, Kyle Walker, Phil Jones, Alex Oxlade-Chamberlain, Jack Wilshere and Danny Welbeck were all called up to the senior squad recently for friendlies against Republic of Ireland and Brazil.
And Pearce suggested some of those players would have been better suited gaining further tournament experience playing for the under-21s.
''I want young players to turn up and play at tournaments to get that experience before they tread onto the stage at senior level," he said.
"You only need to look at the development of Theo Walcott, he went to the 2006 World Cup and between 2006 and 2013 he's ended up playing five and a half matches at major tournaments.
"We have to address that and make sure some of our brighter people, the Oxlade-Chamberlains and Jones's, get tournament experience, actually playing time not just going with squads.''
England came into the European Under-21 Championship on the back of a nine-game unbeaten run, stretching back to November 2011, during which they had not conceded a goal.
But they were outclassed by Italy on Wednesday, with Lorenzo Insigne scoring the winner late on.
Former England manager Glenn Hoddle criticised the performance, accusing Pearce's side of playing too many long balls.
"On Wednesday's performance I would totally agree with him in regard to us retaining the ball and going too long, but for some of that you have to give credit to the Italians," said Pearce.
"There's no hiding place, we didn't play well enough as a group and the players are aware of that, I'm aware of that."
England take on Norway on Saturday, before they end their Group A campaign against hosts Israel on Tuesday, 11 June.