Jose Mourinho: Subdued Chelsea boss still box office attraction

By Phil McNulty
Chief football writer
Last updated on .From the section Football290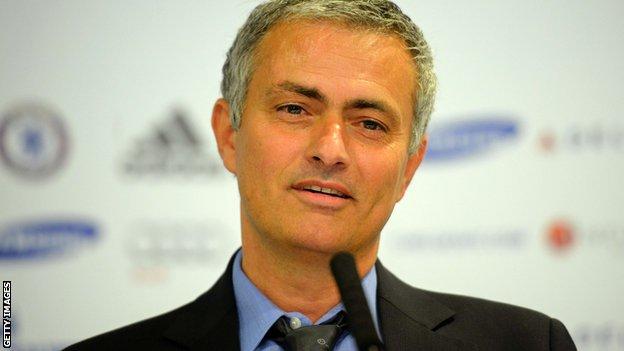 Jose Mourinho now has grey hair and requires reading glasses to see his entire Chelsea vision these days - but there was still the old box office appeal as he walked into his Stamford Bridge sequel.
Mourinho was more "The Sombre One" than "The Special One" as he took his place in the Ron Harris Suite as Chelsea manager for the first time since 2007, in front of more than 250 members of the world's media and 40 television crews.
And yet, despite what seemed a deliberately low-key first day back at the old office, Mourinho still manages to make sure he gives off the full effect of football royalty. The old place was illuminated by the wattage of his personality, even if most of it was kept hidden.
Even the preamble to his entrance, five minutes after the appointed half-hour, carried a touch of theatre. Microphones and sound systems were tested with such feverish regularity that you wondered whether Bruce Springsteen was about to appear through the wooden side door rather than Chelsea's new manager.
The fireworks that accompanied his arrival in 2004 after winning the Champions League with Porto were kept in the box. Indeed, if this had been his opening speech back then, we might have wondered what all the fuss was about - instead we know from those intervening years of success and further honours at Inter Milan and Real Madrid.
Smiles were kept to a minimum. If it was a concerted attempt to present a more mature, conciliatory Mourinho, he had worked hard on his delivery. He even admitted he had weaknesses, although there was the quick qualification: "Not many."
All talk of this new humble Jose must wait until the first controversial incident, the first contentious moment and the first brush with authority. Mourinho said he was ready to marry Chelsea again and this was all part of the honeymoon period. Sweetness, light and harmony.
Mourinho was glad to be back among the British media after the turbulence of his relationships in Madrid. "You're not the worst" was praise indeed from a man whose first Chelsea tenure was not the mutual love-in many outsiders would like to believe.
He was at pains to counter suggestions his renewed relationship with Chelsea owner Roman Abramovich had broken down when he first left - although the fact he left at all reveals it was hardly in good health - and he was back where he wanted to be.
If Mourinho was offended at not being ushered into the manager's office at Manchester United in preference to David Moyes following Sir Alex Ferguson's retirement, or even at Manchester City after Roberto Mancini's sacking, it did not show.
Mourinho said: "They've made good decisions. Good decisions. David proved himself at Everton. OK, no trophies, but it is not easy to get a trophy when you manage Everton and he was not far from doing that.
"I feel very happy for him. Manchester United will give him time to adapt to a new dimension. He's never played in a Champions League group match so people can't expect him to be a fish in water in that first match. Give him time, stability. United is perfect for that - so that's a very good choice."
So was this show simply for public consumption before the real Mourinho comes out from behind the mask or will the Premier League really witness the new, humbler version?
Will the old, combative, confrontational "Special One" emerge once the serious action starts? Not everyone was convinced by these first impressions.
He said: "It was a nickname that is still on me. I like it. No problems. There are so many bad nicknames in life and in football and that one was fine.
"You pushed me for that. I came here in 2004 and two days previously I was winning a Champions League with Porto. I came here thinking I was going to have a good reception and you pushed me, asking if I was good enough for England. That story of "The Special One" came in the moment. It was only a nickname and nothing else.
"I remember my ego being up there. Of course I'm very confident but at the same time I'm more stable, more mature. If I was a proud guy because of what I did before I came to Chelsea, then now I've done more.
"I've been at Inter, Madrid, won titles but this is a different moment of my career. My kids are older, I have more grey hair, I have these."
These? The reading glasses.
"The only thing that affects me are the glasses," said Mourinho. "I don't adapt. I need these to read a newspaper. After that I'm happier than ever with my family, to see my kids arrive in fantastic ages.
"I went around the world. I give thanks to my wife and kids every day. For me it's easy. You have your job, football, matches, you travel. For them it's not the same. For a mother it is not easy to change, for kids to adapt and leave friends, schools and teachers behind.
"But we did all this as a family, all together, jumping from country to country every two or three years. It was a fantastic experience for me and I'm more mature than ever."
Mourinho certainly gave the appearance of a more rounded individual than the streetfighter who stood in the Stamford Bridge sunshine on 2 June 2004 and made that instant, spectacular impact.
Time will tell.
The day of Mourinho's return, 10 June, was Portugal day and he said: "I always love adventure, like the Portuguese ones in the past. I was always a bit of a navigator."
This was the start of part two of his Chelsea adventure - and Roman Abramovich will hope he can navigate them back towards the success he enjoyed first time around.