Newcastle's Papiss Cisse plans club talks over new shirt sponsor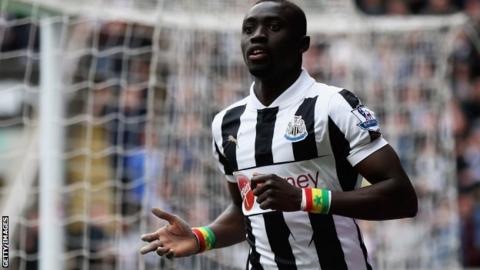 Papiss Cisse is set to discuss his concerns about wearing the Newcastle shirt sponsored by a loans firm when he returns from duty with Senegal.
It is understood the 28-year-old striker wants to remain at the club, but is worried his Muslim beliefs would be compromised if he were seen to promote the company.
Professional Footballers' Association deputy chief Bobby Barnes said it was a "difficult situation", but hoped that the club would respect Cisse's views and there would be a "compromise".
"We're all aware that clubs need to generate revenue and sometimes have to use a wide range of companies," Barnes told BBC Sport.
In October, high-interest pay day lenders Wonga were announced as the company to take over from Virgin Money as Newcastle's new shirt sponsors from the 2013-14 season. It is thought the contract is worth around £8m a year to the club.
Barnes added: "However, if someone feels very, very strongly that it's not compatible with their beliefs, then some sort of solution should be found.
"He's been fantastic player at Newcastle and I'd like to think they would want to do as much they could do for him to continue scoring the goals without compromising his beliefs."
Cisse joined the Magpies in January 2012 and has scored 26 times for the Magpies in all competitions. He is currently on international duty with Senegal for their World Cup qualifiers and scored in Saturday's 1-1 draw against Angola. Senegal play Liberia on 16 June.
A similar conflict occurred at Spanish club Sevilla in 2007 when striker Frederic Kanoute, who like Cisse is a devout Muslim, covered the logo of a betting company on his shirt. Gambling is forbidden in Islam.
The Mali forward, who played for Tottenham, made a U-turn after the club told him that wearing the shirt would not imply that he was promoting gambling. Kanoute did not take part in any promotional activities involving the sponsor.