Robert Maxwell's phantom club, the Thames Valley Royals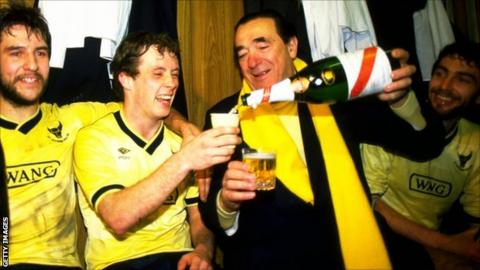 Mass protests, death threats and banners reading 'Judas'.
The two months in the spring of 1983 were unlike any others in the history of local rivals Oxford United and Reading. These were two proud football clubs, with their own sets of fans, representing two separate communities, and the millionaire publisher Robert Maxwell wanted to fuse them together as the Thames Valley Royals.
The announcement on 16 April 1983 came from nowhere, without any prior hints or tip-offs.
Maxwell, the Oxford United owner, told the BBC he was on the verge of taking a controlling interest in Reading, prior to merging the two clubs.
"I am proposing to merge the club with Reading," he said. "If we in Thames Valley are to retain a league club we've got to unite Reading and Oxford.
"Everything in the world that cannot pay its way must go the way of merger to combine into stronger units."
Maxwell, who died in November 1991 after being reported missing from his yacht near the Canary Islands, had bought the U's in 1982, saving them from bankruptcy. They continued to lose money though.
Reading, their near neighbours and rivals in the old Division Three, were in even more severe financial trouble as they teetered near the bottom of the table.
Daily Telegraph journalist John Ley, who was cutting his teeth as a young reporter on the Oxford Mail at the time, explains: "When two ailing businesses struggle and you merge them, then very often they do a lot better.
"Maxwell wasn't a man from a footballing background. He enjoyed the celebrity status it brought him and initially liked being perceived as the knight in shining armour. I supported the idea of merging from a business point of view, but I'd completely underestimated the strength of feeling in the area.
"I had a good relationship with the fans but one or two turned on me and I even had a death threat."
Ley was travelling with the team to Doncaster for a Division Three match when the news broke.
"In those days I was lucky enough to travel with the team bus," he says. "We left quite early and didn't know anything about the news until we got to the ground.
"A phone in the press box rang, asking for me, and it was somebody from a national newspaper who'd heard this was happening. I scrambled around to check it out and managed to get hold of [Oxford manager] Jim Smith just before kick-off."
On hearing the news, Smith, who had been manager of the club since 1982, immediately sought out Maxwell for some answers.
"Your first thought is, 'Am I going to have a job?'," Smith remembers. "But that was soon guaranteed by Mr Maxwell. Then all hell broke loose."
Smith was assured he would be the manager of the Thames Valley Royals, but the futures of the players at both clubs were less certain.
"We'd just gone out for our warm-up as normal and were in the process of putting our pads on and doing our boots up," remembers Mark Jones, a 21-year-old midfielder with Oxford at the time. "Then Jim Smith came in all excited and told us the news about the merger and the name.
"It went totally quiet and my chin hit the floor. I had a hard enough job getting into the team as it was. Now there was going to be another squad of players. [Smith] then went on to say: 'We're only doing it so we can buy [Reading striker] Kerry Dixon. All your places are safe.'
"Then we had to go out and play the game."
Ley continues: "I remember on the bus back the team were very quiet as they were all concerned about their futures.
"When you merge two clubs into one, you cannot have a squad of 45. This was an immediate plan and there was fear in the faces of the older players. It was a feeling of incredulity, confusion, worry and fear. This has never been done by anybody before."
Just a week on from Maxwell's announcement, there was a mass protest at Oxford's Manor Ground home before a game against Wigan.
About 2,000 supporters staged a sit-in protest on the centre circle, delaying kick-off for 30 minutes, and there were banners in the crowd reading 'Judas'.
From the comfort of the directors' box Maxwell faced supporters, but was met with abuse and spittle. A few days later he again spoke to supporters, this time during a phone-in on BBC Radio Oxford.
Despite the opposition, Maxwell was adamant his plan must go ahead.
"If they want to become supporters of someone else, they're entirely welcome," he said. "If the deal does not go through, both Reading and Oxford will be dead before the beginning of next season.
"Nothing short of the end of the earth will prevent this from going through."
Steve Daniels was one of the fans who called in. He argued the club and fans were being used as pawns against Oxford City Council, who had refused Maxwell permission to buy land in Marston on which to build a new stadium.
To the massive relief of fans of both clubs, the deal did collapse. It was not because of the protests though, but rather because of a boardroom mistake.
Roger Smee, who had been a former Reading player, had spotted the error a year earlier.
"I was such a sad case in those days," he says. "I was building a business and my only respite was to go down to Elm Park, have a few whiskies, watch some terrible football, moan about it and go home having had a thoroughly good afternoon.
"I did actually read the accounts and noticed they had some shares that had been authorised in annual general meetings that had been unissued. Then there was suddenly this announcement that an irrevocable agreement had been reached between Maxwell and the directors of Reading Football Club.
"I was probably the only person in the world who at that point thought: 'That's unusual. A year ago they [the directors of Reading] didn't have a majority, so how on earth have they issued these shares to themselves while Reading was a public company? That would be against the law.'"
So when Frank Waller, the Reading chairman, and Maxwell emerged from a press conference they had called to officially announce the merger on 22 April, they received an unexpected surprise.
Reading director Roy Tranter's solicitors handed Waller a High Court injunction forbidding the sale of the unissued shares.
Maxwell, behaving with characteristic belligerence, called the matter a "side show" and made a bid to all of the shareholders at Reading, but they refused his offer. Waller and club directors Leslie Davies and John Briggs were then forced to quit.
And so that was it. Reading Football Club and Oxford United remained separate clubs with separate pasts, presents and futures.
Maxwell's fate is well known, though it is still shrouded in mystery.
He died eight years later after apparently falling off his yacht. His body was unaccounted for, as were millions he had stolen from the Mirror's pension-scheme.
Then Labour Party leader Neil Kinnock, at the time unaware of the pension theft, said Maxwell was a man with a "zest of life" who "attracted controversy, envy and loyalty in great measure throughout his rumbustuous life".
He was certainly someone who seemed to have a profound impact on everyone he met, as fans who supported Reading and Oxford in 1983 will testify.
BBC Radio Oxford: The Team That Never Was
Produced by Will Wilkin, Jerome Sale, Ross Heaton and Andrew Findlay. Interviews by Malcolm Boyden, Jerome Sale and Nathan Cooper.
Coverage: BBC Radio Oxford on Saturday, 15 June at 16:30 BST