SFL clubs vote in favour of merger with SPL
Last updated on .From the section Football595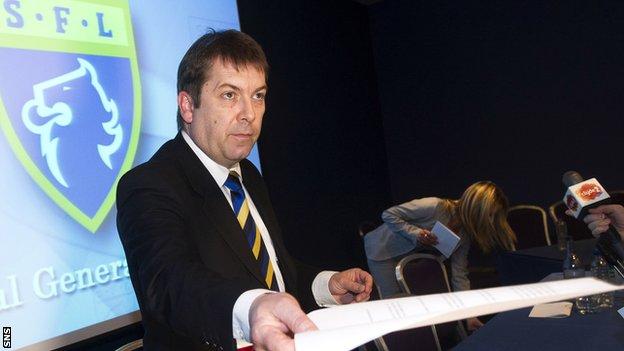 Scottish Football League clubs have voted in favour of a proposed merger with the Scottish Premier League.
The bodies will form a new Scottish Professional Football League in time for next season, averting a threatened breakaway from Division One clubs.
A revised financial distribution model will be introduced, feeding more money into the second tier.
The league structure will remain the same, with a top flight of 12 and three lower divisions of 10.
SPL clubs had already unanimously agreed on a package of measures that would deliver a merged league body for the new campaign and play-offs between the top league and the second tier.
There had been dissenting voices from Second and Third Division clubs but 23 of the 29 clubs voting backed the plan for restructuring.
A minimum of 22 votes was required, while Third Division champions Rangers did not get a say as they remain associate members having joined last summer.
Earlier plans for a 12-12-18 divisional set-up were jettisoned in April after the model failed to get the 11-1 majority backing required from the 12 SPL clubs.
A meeting of all 42 senior clubs will now be called to formalise the creation of the new governing body in time for next term.
SFL chief executive David Longmuir: "I feel there were some reluctant heroes today. We have always embraced the big principles but once you go behind the big principles like governance, distribution and one league body, there were areas of major concerns.
"But nevertheless a lot of them have seen it for the good of the game and we all accept that Scottish football is better governed under one roof.
"On 27 June there will be a formalised completion of the process and the first board meeting of the new organisation - the SPFL - will take place that day and at that point a board will be appointed."
Jim Ballantyne, president of the SFL, described the restructuring as a "takeover" rather than a merger.
"We are joining their company, their organisation," he explained. "They have swallowed us up. We could use nice words about it, but it is a takeover.
"It is very sad that the Scottish Football League has had to be a casualty but unfortunately we were left with one option.
"Did I want to see the end of the Scottish Football League? Absolutely not. Did I want to see football strive forward? Then yes. It will be for others to decide if this step takes us to where we want to go."