Swansea City: Ian Walsh fears for Michael Laudrup future
Last updated on .From the section Football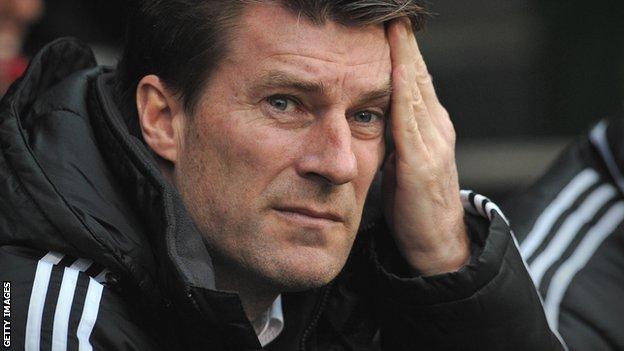 Ex-Wales striker Ian Walsh fears that Michael Laudrup's time as Swansea City manager could be coming to an end.
"If the club have... disassociated themselves with Michael Laudrup's agent then you've got to assume that's the beginning of the end," Walsh said.
Laudrup says he will stay despite the club falling out with Tutumlu.
There was already speculation over Laudrup's future because of a disagreement over the funds available to strengthen the Swansea squad for next season.
So far the Premier League club have only secured one new player in Jose Canas, with the midfielder set to arrive on a free transfer once his contract with Real Betis expires at the end of June.
Key Swansea defender Ashley Williams has been linked with a move to Arsenal or Liverpool and it is understood that Tutumlu's involvement in the 28-year-old Wales star's potential transfer has also caused friction.
"Michael Laudrup has been with his agent for years and years and why this has come to a head now rather than two or three weeks ago I'm not sure, because time is of the essence," Walsh said.
"It will be disappointing as I think Laudrup has done a great job. I think Laudrup takes a lot of responsibility for what is going on and unless we have an official statement from both parties, everybody is up in the clouds.
"The feeling is more one of frustration than anything else. Swansea have arguably had the best season in the history of the club and it's all been tarnished by this bickering off the field.
"Whether it be the agent, Michael Laudrup or the club, they've got to sit down to try to determine whether they're going to go forward together or not."
Swansea chairman Huw Jenkins has a proven track record of replacing his managers, who have regularly been lured away by richer clubs.
Roberto Martinez, Paulo Sousa and Brendan Rodgers have all departed since 2009 after impressing while in charge of the Swans.
Walsh accepts that Laudrup may - after just one successful season in charge that saw Swansea win the League Cup and finish ninth in the Premier League - become the latest to leave the Liberty Stadium.
"Maybe this is the way of the manager merry-go-round," Walsh added.
"Behind the scenes at Swansea, Huw Jenkins and his team have done a fantastic job in bringing in managers and you've got to hope that doesn't stop here.
"You just hope that history is there and the next manager that comes in will do another job. But, having said that, we don't know that is the case at the moment."
Laudrup only signed a contract extension with Swansea in March and has stated his "intention" to stay in charge at the Liberty Stadium next season, but has been regularly linked with vacant positions at major clubs in Europe.