SPL helping resolve Richard Brittain registration dispute
Last updated on .From the section Football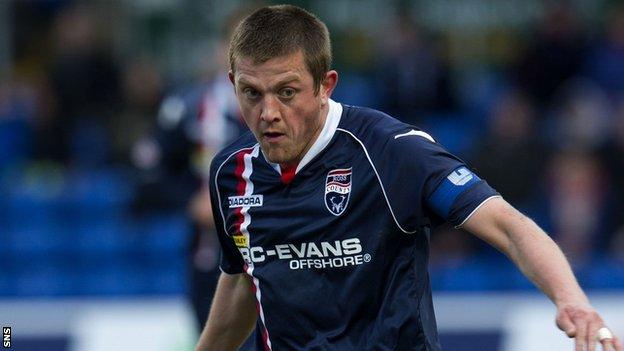 The Scottish Premier League is talking to Ross County and St Johnstone in the hope of resolving a dispute over midfielder Richard Brittain.
The 29-year-old County captain with the Perth club in January but subsequently had a .
Saints are .
But their attempt to register Brittain was blocked by the Scottish FA because he is registered to County.
SPL chief executive Neil Doncaster told BBC Scotland: "I can't comment on individual cases, but I can certainly confirm that we are monitoring that situation quite closely.
"We talked to both clubs, but it's not something I can comment on at this stage."
County chairman Roy MacGregor said he had yet to discuss the situation directly with St Johnstone.
"But we hope to do so over the next couple of days," he said when asked about Brittain's position. "We're still working away."
Saints counterpart Steve Brown appeared to be steadfast in his belief that Brittain would be at McDiarmid Park next season.
"They knew he had signed a pre-contract with St Johnstone," he said about County's registration of the player for next term.
"It's almost a deliberate ploy to prevent him playing for St Johnstone.
"The next move is to seek guidance, from both bodies, the SFA and the SPL.
"I met Richie a month or so ago and made my position clear that St Johnstone were keeping to the pre-contract and I fully expect him to honour his commitment he made in January."
Pre-contract agreements have also come under focus this summer after after leaving Alloa Athletic.
Departing Liverpool defender Danny Wilson is also reportedly reconsidering a pre-contract agreement to join Hearts because of the club's financial problems.
Asked if Ross County's move to keep Brittain could call into question the future of a pre-contracts, Brown said: "It is bound to.
"I don't know who is the arbiter, I have absolutely no idea.
"It is probably a first in the game.
"But I am disappointed a fellow club would actually put an application in to register a player."