Football finance expert Patey believes Hearts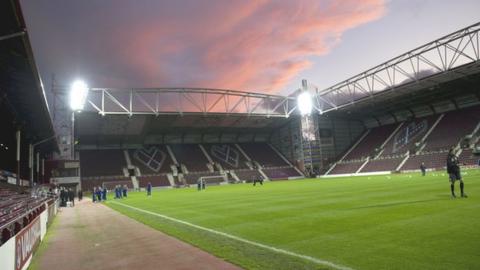 Hearts will continue to play next season but the form they take and the league they will play in is open to debate, according to football finance expert Neil Patey.
The Tynecastle club has debts of £25m and on Thursday said
"The likely scenario is administration - the debts get cleansed," said Patey.
"Even so, as long as there's a buyer for the club or the assets, Hearts could still continue to exist."
And the partner at Ernst & Young added: "It will just be [a question of] under what structure and what ownership."
Hearts, who finished 10th in the Scottish Premier League last season, owe £15m to .
And an additional £10m is due to the club's Lithuanian parent company, UBIG, which is claiming insolvency.
Managing director David Southern said it is doubtful the club can pay players' wages that are due at the end of this week.
Patey said: "There is obviously huge financial pressure from Lithuania and Scotland. There is a strong possibility that through one of those routes, administration could happen.
"If they went into administration and a CVA (company voluntary arrangement) was agreed they could still be playing in the SPL next season but with a 15-point deduction.
"[With a CVA] there's an agreement settled by the administrator and the creditors will get paid a certain amount in the pound.
"The new entity will come out of that debt free. That really is the route of it for Hearts.
"The bank [Ukio Bankas] will get a fraction of what it's due.
"If they can't get a CVA, it will be a liquidation, a bit like Rangers, and there will be a new entity having to reapply for membership which would in all likelihood mean Third Division entry."
The developments at Tynecastle are a major concern to the Foundation of Hearts, who hope to facilitate a fans' takeover of the club.
Its spokesman, Alex Mackie, encouraged listeners to BBC Radio Scotland to help the club's cashflow by buying season tickets and by pledging funds to effect the takeover.
He said: "The club is in financial trouble and who is in a position to take it over? At the moment it's only the Foundation, which is a fans' ownership vehicle.
"The pledges have gone up. We are still very much in the mix in terms of trying to acquire the club.
"But we ourselves have to be cautious; the club is in financial difficulties and we need to make sure we have enough backing from the fans to take over.
"Through Ian Murray, the chairman, we are in contact with the administrator in Lithuania and we're trying to make as much progress as possible.
"It's important for the Hearts fans to realise that the club depends on them. It's not about white knights coming in, no-one is going to do that any more. It's all to do with the Hearts fans.
"The foundation is a fans' ownership vehicle and that's arguably the right way forward for a more stable future."