Coventry City administrator Paul Appleton accepts Otium bid
By Ged Scott
BBC Midlands Sport
Last updated on .From the section Football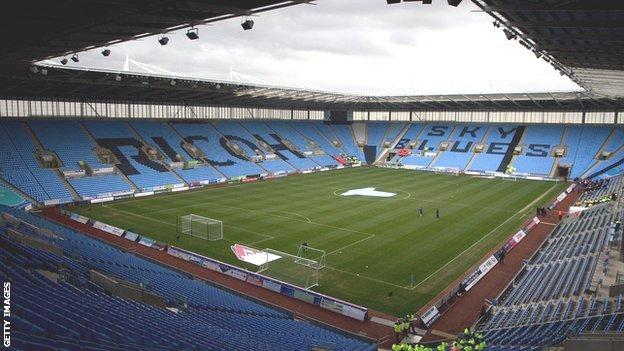 Coventry City administrator Paul Appleton has accepted an offer from the Otium Entertainment Group to become the League One club's new owners.
Appleton revealed that he had simply sold the club to the highest bidder.
Otium are the parent company of Coventry City Holdings Ltd - the part of the club that is not currently in administration.
"I realise and appreciate the end result of the sale process will not necessarily be welcomed by a large number of Coventry fans," said Appleton.
"However, the bid from Otium Entertainment Group Limited was substantially more than any of the other three bids received."
All three former Sky Blues directors involved, including ex-chairman Dulieu, who was also previously a director at Southampton, have a connection with the club's current owners Sisu, who took over the club in 2007.
"It was the bid which gave the greatest return to the unsecured, non-connected creditors of CCFC Limited by a considerable margin," added Appleton.
"This offer allows me to achieve the purpose of the administration and, following discussions with the Football League, I am hopeful a completion of the sale can be achieved as swiftly as possible."
Coventry City issued a statement on Friday evening, saying: "We are pleased with the decision which helps to assure the future of the club.
"Our absolute focus now is to exit CCFC Limited from the administration process so we can get back to running a football club and make the decisions we need to in time for next season.
"The club will not be making any further comment at this stage."
Appleton was keen to have any deal finalised before the fixture list for the new season is released on 19 June.
Having initially been asked to consider six offers, only four final and best bids were lodged before Thursday's deadline.
But, apart from Sisu's potential continued involvement, the only one known was from a consortium headed by US tycoon Preston Haskell, who had also offered to buy a half share in the club's Ricoh Arena home.
Haskell, who will continue to monitor future developments, expressed his disappointment on Friday night in a statement.
"Over the past few months while working hard to acquire CCFC, I have developed a strong affinity with the fan base of the club," he said.
"Of course I am disappointed by this afternoon's decision, but I am incredibly proud to have had the experience and unforeseen encouragement of a lot of dedicated supporters. I'm so appreciative of that.
"I personally met with Mr Paul Appleton and think he and his colleagues, bound by the laws and rules of an official legal process have been very professional throughout this difficult undertaking.
"His job wasn't easy but it was done according to the law, and appropriately managed.
"I would also like to publically thank the "good and great of Coventry" Mr Joe Elliott and the steadfast Mr Gary Hoffman for their unwavering support and hard work. These two gentlemen truly bleed Sky Blue."
City, who have been in administration since a High Court hearing in March, have been in a rent dispute with their stadium landlords, Arena Coventry Ltd, for more than a year but on Tuesday were offered the Ricoh Arena "free of any rental fee" for next season.
Sky Blues chief executive Tim Fisher revealed last Friday that the club are in talks with three fellow league clubs, all within a 30-mile radius of Coventry, about a potential groundshare deal, while they press on with plans to build a new stadium in the city.