Libya extend lead while eliminating Togo from World Cup
Last updated on .From the section Football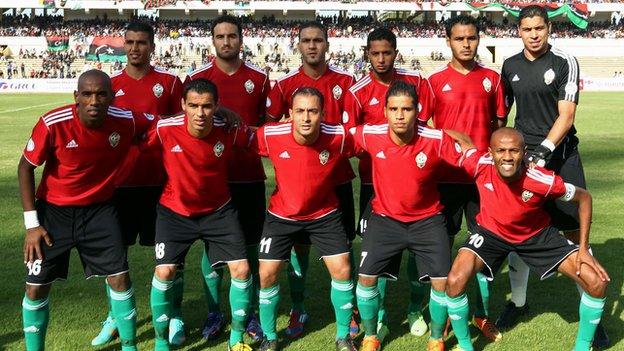 Togo were eliminated from World Cup qualifying by Libya as the hosts won 2-0 in Tripoli on Friday to extend their lead at the top of Group I.
The victory takes the Libyans to nine points, three more than a Cameroon side who play in DR Congo this weekend.
A penalty from Faisal Saleh after seven minutes, followed by an own goal from Komlan Amewou 11 minutes later, condemned the Togolese to defeat.
The 2006 World Cup qualifiers have four points but just one match left.
The West Africans' preparations for the match were overshadowed by a desire to move the fixture to a neutral venue after at least 30 people died in clashes on the streets of Benghazi last weekend.
The eastern city was originally intended to host the match but although Fifa switched the match to the capital, the world governing body denied Togo's request to take the match outside of Libya.
Two players - Alaixys Romao and Jonathan Ayite - withdrew from the squad, citing both security concerns and a desire to avoid a similar scenario to the tragic attack on the Togolese ahead of the 2010 Africa Cup of Nations.
Two members of the delegation died when ambushed by separatist rebels in the stage of Cabinda, with Romao saying he did not "want (his) family to live with stress again."
With star striker Emmanuel Adebayor and goalkeeper Kossi Agassa also missing after refusing to play in the 2-0 qualifying win over Cameroon last week, the Togo side that took to the field in Tripoli was greatly weakened.
Libya instantly profited from the absences and a blistering start effectively took the game away from the visitors.
The North Africans will now pay close attention to Sunday's match in Kinshasa, where a home win will take the Congolese to within a point of the group leaders.
In September's final round of matches, the Mediterranean Knights travel to Cameroon while Togo host two-time African champions DR Congo.