Jose Mourinho 'would have turned down Manchester United'
Last updated on .From the section Football1121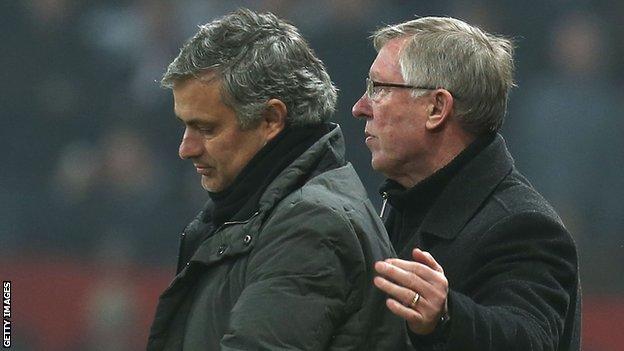 Chelsea manager Jose Mourinho claims he knew months ago of Sir Alex Ferguson's plans to stand down as Manchester United boss, but says he was always intent on returning to Stamford Bridge.
Ferguson, 71, left Old Trafford last month after 26 years in charge and has since been replaced by David Moyes.
Mourinho said: "I knew that Ferguson was retiring many months ago.
"I would have turned down every job in the world - the Manchester United job, every one - for Chelsea."
The Portuguese, who won the Premier League twice during his first spell in charge at Chelsea, has signed a after leaving Real Madrid.
Mourinho, 50, had long been linked with replacing Ferguson at United but insists that he was only interested in a return to Chelsea - despite being told of Ferguson's plans.
"I am so happy with his [Ferguson's] trust because it was big news for the world - I can imagine that just a very small circle around him knew that, and it was a big responsibility for me to know that," he said.
"Why do I know that? Because we are friends, so if I am his friend to know that he is going to retire, he is also my friend to know that the club I want to coach in England is Chelsea.
"Of course I told him I want to come to Chelsea. I would turn down every job in the world for Chelsea."
Mourinho has also warned his players that they will have to work hard to fit in once they start pre-season training at the start of July.
but also said that players remaining from his first spell will not get special treatment.
He said: "There is something I say whenever I go to a new club and I am going to say it again when I meet the players on 8 July - and some of the boys will have heard it before from me.
"It is a sentence I always say on the first day: 'If you are a top professional, if you are not a selfish person, if you put the club in front of yourself and if you are here to work 100% for me, for your fellow players and for the club, then we will have a wonderful relationship.
"If you are selfish, if you think about yourself and you don't care about the club, don't care about the image, if you don't care about the fans then we are in big trouble, so it depends on you if the relationship is fantastic or if it is not fantastic."