Hearts: Fans urged to back takeover as administration looms
Last updated on .From the section Football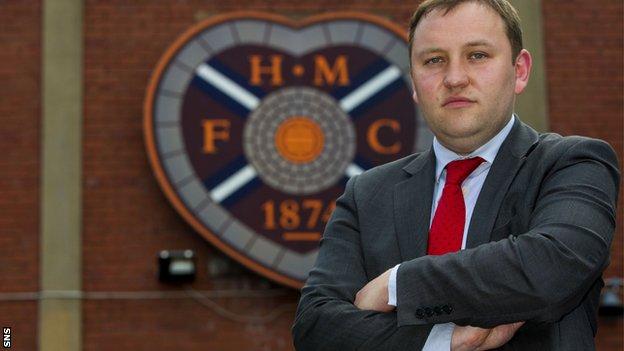 Ian Murray, the politician leading the Foundation of Hearts supporters' group, is calling on fans to rally in a bid to save the Edinburgh club.
But Edinburgh South MP Murray hopes to front a bid for the ailing Tynecastle outfit by the end of the June.
"Now only us, the supporters can ensure Hearts has a future, and not just a future, but a future we can be proud of," said Murray in a statement.
Prior to news of the club serving notice of their intention to appoint an administrator, the foundation said it had already signed up more than 4,000 fans, who have pledged between £10 and £100 a month to back its takeover effort.
"Today is the darkest day in the history of Heart of Midlothian Football Club, but in tragedy which has finally befallen the club, we must look to the future," added Murray.
"The decline of Hearts into administration is not as a result of those people who are tonight suffering.
"The staff, who have long worked under great pressure, and the supporters, who have put in millions to keep the club alive are not to blame. Those who have caused this pain are culpable.
"But our focus must be on the future, even if today hurts as much as it does.
"The Foundation of Hearts is committed to a fan-led, community governed, transparent, and well-structured football club, at which supporters are at the very heart.
"We are backed by every one of the key supporters groups, by a significant group of former players and by key players in the Edinburgh business community.
"We are set to launch our pledge conversion campaign in the next 24 hours and with time of the essence we ask all supporters to pledge what they can in preparation for the biggest fight of our lives, to keep our club alive.
"There has been speculation upon speculation as to potential bidders for the club but that is all that it has been. The only real and credible buffers at this stage are the Foundation of Hearts and that is why we are asking every Hearts fan for their support."
At least five other parties have expressed an interest in taking over the Scottish Premier League club, who will start next season with a 15-point deduction, if the application for administration is successful.
However, the issue of ownership is muddied as the majority of Hearts' shares are split between two Lithuanian companies; Ukio Bankas, who are currently in the hands of an administrator, and parent company UBIG - which is claiming insolvency.
Ukio Bankas are owed £15m by Hearts and holds Tynecastle Stadium as security for that debt, while £10m was borrowed from UBIG.