Hearts: Former boss John Robertson hopes for 'new dawn'
Last updated on .From the section Football20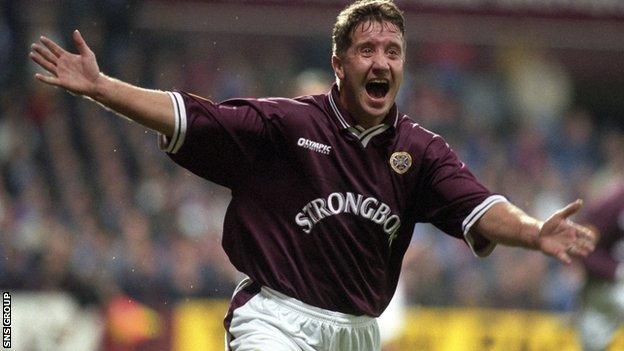 Former Hearts manager John Robertson has given his reaction to BBC Scotland on the club's financial crisis and intention to enter administration.
"It's been a day that's been coming for a long, long time. We've got to deal with it now in the right manner.
"We need an administrator to come in now and try to arrange a CVA agreement and do what they can for the creditors; then put in place measures for the club to go forward with a brighter future.
"I said at the time (of the share issue) I wanted honesty, transparency and clarity. They told me how badly they needed the money at the time and wanted to do the share issue.
"It's not a question of what the fans tried to do, it's what they did do. They saved the club from going into administration during the season.
"We were all told that, come the end of the season, that the club would be self-sustainable and they'd be able to reduce the budget down to a level where the club could go forward and trade properly.
"But there seems to be one bill after another that's come out and the club's had to apply for administration.
"I don't think any of the senior players will be left on the books due to the administrator going in and cutting the bigger wages that are left.
"My concern would be of clubs interested in some of Hearts' young talent: Walker, Holt, Paterson, McHattie etc.
"If Hearts were to lose them on top of the transfer embargo then it would be nothing more than the current u-19 team with one or two u-21s.
"It would look like they'd head towards the First Division.
"We knew this day was coming and it's not a total surprise that's come out of the blue.
"When you see the likes of Dunfermline, Dundee, Livingston etc; we've all had our problems dealing with them.
"Scottish football needs to heed these warnings and move on. We've talked about the revamp of Scottish football in general and have seen the first steps of that happening.
"Our game is suffering from ill-health and Hearts will have to accept the consequences. The supporters realise that and we all understand that. We have to do so with dignity and move on.
"Although it's the darkest day, tomorrow could see the dawn of a stronger club that's run within its means."