Joe Kinnear at Newcastle: What is it like to work with him?
Last updated on .From the section Football229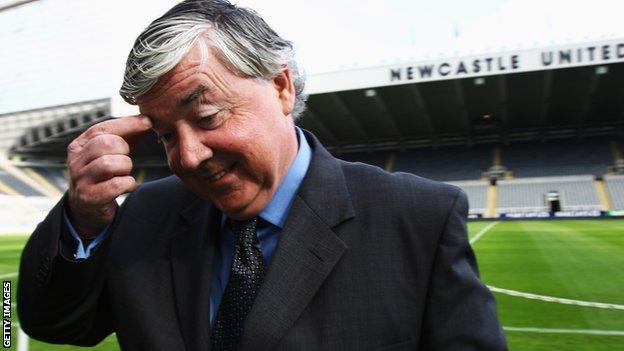 Mispronounced names, factual inconsistencies and forthright views. Joe Kinnear has certainly caused a stir.
The 66-year-old announced he was to become Newcastle's director of football on Sunday before giving a bizarre interview to talkSPORT the following day, during which he accused his critics of being less intelligent than him.
It was hardly the ideal way to start his tenure at St James' Park and Tuesday's official confirmation of his appointment was met with a largely negative response from the club's fans and the media.
But is it all doom and gloom? What can Newcastle expect from Kinnear? Former players, colleagues and a journalist give their views.
An eye for a player
While he may have been confused over some of his transfer dealings in his interview on Monday, Kinnear had a fair degree of success in the market as a manager.
During his time at Wimbledon, who he managed for seven years from 1992, Kinnear brought in the likes of Dean Holdsworth, Marcus Gayle, Efan Ekoku and Oyvind Leonhardsen.
After joining from Brentford, Holdsworth went on to make more than 150 appearances for Wimbledon before being sold to Bolton for £3.5m in 1997, while fellow striker Gayle - another signing from the Bees, in 1994 - played more than 280 times for the club and became a Jamaica international before departing for Rangers in 2001 for £1m.
Nigeria international Ekoku, another striker, joined from Norwich in 1994 and was the club's top scorer in his first season, albeit with only nine goals. After five years at the club, he left for Swiss side Grasshopper Zurich.
Leonhardsen was also signed by Kinnear in 1994, from Rosenborg, and spent nine years in England, the Norwegian midfielder leaving Wimbledon for Liverpool for £3.5m in 1997 before spells at Tottenham and Aston Villa.
All four played their part as the club regularly performed beyond expectations, finishing in the top nine three times between 1993-94 and 1996-97.
The club also made significant profit when Kinnear sold a number of players, notably John Scales, who moved to Liverpool in September 1994 for £3.5m, and Warren Barton, who became the most expensive defender in English football when he joined Newcastle in a £4m deal.
"He had a good track record in his Wimbledon days, that was a long time ago, but once you know football and have been in it for a while, that ability to spot a player does not desert you," Scales, 46, told BBC Sport.
"What he wants to see in a player is personality and mental attitude and commitment to being a top player.
"Football is as much about ability as it is about mental strength and I think that is probably what Joe is good at - being able to assess a player's attitude, what makes them tick and how they fit in at a club."
At Luton he signed striker Steve Howard, midfielder Kevin Nicholls and defender Chris Coyne, who all spent more than half a decade at the Hatters, helping them win two promotions in four seasons.
In his short spell in charge of Newcastle, Kinnear signed Peter Lovenkrands, Kevin Nolan and Ryan Taylor, with the latter two in particular proving successful.
Midfielder Nolan, 30, scored 18 goals as the Magpies were promoted from the Championship in 2009-10 before scoring another 12 as club captain on their return to the top flight, while defender Taylor, 28, is closing in on 100 appearances for Newcastle.
"He made a couple of good signings at Newcastle," said the Journal reporter Stuart Rayner, who covered Newcastle while Kinnear was manager.
"He signed Kevin Nolan who, while he did not have a great season in the relegation season, was great in the Championship the year after and he also signed Ryan Taylor, so he does have an eye for a player."
Man-management skills
Outwardly, Kinnear can certainly appear brash and uncompromising - as shown in his interview on Monday - but those who have worked closely with him in the past suggest that underneath the surface there is a much more approachable person.
Mick Harford was Kinnear's assistant during their successful spell at Luton, who they guided to promotion in 2002.
"Joe is very popular at the football clubs he works for. He will go in and get to know the chairman, the kit man, the tea lady - he will get to know what makes people tick and he won't go in there with an agenda," he told the Journal.
Scales, who played under Kinnear for two seasons at Wimbledon, added: "Joe was great to work with. He is a big, big personality and I think at that time to take Wimbledon forward, with a group of big personalities, you had to have someone who did not lack confidence and Joe came in and flourished.
"He embraced the culture of Wimbledon but also stamped his own mark on the club. He knew the strengths and weaknesses of Wimbledon and played to the players' strengths. He got the best out of the group of players there.
"A few of those players who played under Joe went on to do bigger and better things, I think that is testament to his ability to do well with that squad of players."
Working with the media
Kinnear held an infamous news conference in which he swore more than 50 times after he was appointed Newcastle caretaker manager in 2008, but such an outburst was more the exception than the norm, according to Rayner.
"The much-highlighted news conference was an extreme example," he added.
"Despite getting off on that bad footing, everything would be forgotten about by the next week. He would have his say but I don't feel it ever damaged long-term relationships, especially on a local level.
"He was always accessible as a manager, he was always wary of us but I don't feel he would ever refuse to talk to the local media. He would certainly threaten it but did not follow through with it.
"Some managers these days are hard to speak to, especially outside of news conferences, and Joe Kinnear you could at least get hold of and he would tell you what was going on at the club the best he could."
Can the director of football role work?
The director of football role in England is something of an enigma and Newcastle have painful memories of their appointment of former Chelsea captain Dennis Wise to a similar position - executive director on "football-related" matters - in 2008. It is a position that has largely been successfully employed by clubs across Europe for years, but less so in the Premier League.
Kinnear's relationship with Newcastle boss Alan Pardew and scout Graham Carr will be crucial, and former goalkeeper Lutz Pfannenstiel, who briefly played under Kinnear at Wimbledon, is confident the former Tottenham defender has the characteristics to be successful in the role.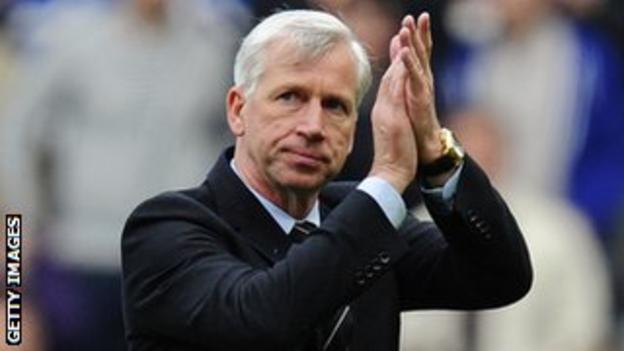 "He has so much experience in the Premier League," the 40-year-old German said.
"He knows everyone and they know him and I think being director of football these days is not just about the knowledge but also about contacts and I think he is so highly respected in that regard.
"At a team like Newcastle, it could make the difference."
Former Newcastle defender Steve Howey is less certain.
"If there is one thing Newcastle have got right it was with Graham Carr and the scouting system and the players they have brought in - the quality was always there," he told BBC Radio 5 live.
"To take that out of their hands and for Joe Kinnear to have power over that, we have all seen in the past that these kinds of scenarios don't work."
Winning people over
Whatever positives Kinnear can bring to Newcastle in his role, arguably one of his most difficult tasks is to win over those who question his appointment after stating he he has "more intelligence" than his critics.
"It doesn't seem to bode well," Howey added. "He has come in and it was a shock to everybody. I don't think he really endeared himself the first time he came to Newcastle and then to come in and say what he did...
"You need the fans on your side. They are the ones who can make a huge difference if things start to go wrong."