Essien wants to discuss Ghana future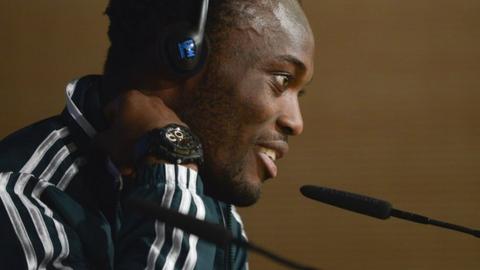 Chelsea's Michael Essien says he wants to meet the Ghana Football Association to discuss 'personal' issues before deciding his international future.
He asked to be excused from Ghana's 2013 Africa Cup of Nations campaign so he could focus on getting more game time while on loan at Real Madrid.
Asked if he will play for Ghana again, he said: "We will see what happens.
"I am trying to set up a meeting with the Ghana FA to settle some issues that will determine."
The midfielder insists that he has not retired from international football but simply taking a break.
"I never stopped playing. I just asked to be excused from international duty for a while," he explained
Essien last played for the Black Stars in June 2011 in a Nations Cup qualifier against Congo in Kumasi.
He has denied that the injuries he has picked up while on international duty have anything to do with his situation.
"It's not about the injuries", he told Ghana's TV3 Network.
"I've suffered serious injuries and had nine major surgeries but thank God I am back and still playing."
The 30-year-old first represented Ghana as a teenager and has hit back at suggestions from fans and media that that he is unpatriotic for not playing for Ghana.
"I think it is very unfair - people are very quick to judge we the players," he said.
"I've always been there for the nation and played at every age category so if they say I am unpatriotic, it's unfair."
Essien will return to Chelsea this season having spent a season on loan at Real Madrid under new Chelsea boss Jose Mourinho.
In his one season away competition for places in Chelsea's midfield has become more intense but Essien is determined to earn his due this season.
"I don't think I have anything to prove now - I've done that already," he said.
"I'm just looking to go back to Chelsea, train hard and make myself available.
"If the manager needs me, I will work hard for the team as much as I can."
If he agrees to return he would join the Ayew brothers, Jordan and Andre a well as Kevin-Prince Boateng in making themselves available for Ghana again.