Cardiff manager Malky Mackay patient over new signings
Last updated on .From the section Football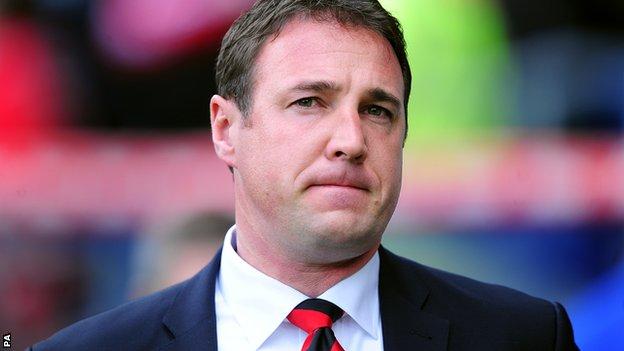 Malky Mackay has appealed to Cardiff City fans to be patient as he works at bringing in new signings ahead of their debut Premier League campaign.
Cardiff have yet to add to the squad which won the Championship last season.
Mackay insists his recruitment team are working hard but admits being a newly-promoted club is a hindrance to attracting players.
"It's [about] convincing some players to come to a club who are seen as one of the relegation favourites," he said.
"But I talk to them about the plan we have here going forward and the way that we're going to play and the whole package that involves everything about Cardiff City, which I think is quite exciting."
Cardiff City's Malaysian owner Vincent Tan had previously said the club could spend up to £25m in preparation for their debut season in the Premier League.
Mackay says Cardiff are meticulous when signing new players and will only bring the right calibre of player to the club.
"The recruitment team are in their busiest time of the year at the moment in between [transfer] windows," Mackay said.
"There's an awful lot of work gone on behind the scenes in terms of going to watch players, reports coming in, speaking to agents and football clubs to make sure we bring the correct quality of player that's going to help the group."
"The quality of the player again has to go up because we're going into an even better league."
"[When] bringing players to the football club [we] try and make sure we investigate them well enough that we don't make too many mistakes and they come in and be successful over a period of time."
Cardiff City will start life in the Premier League with a trip to Mackay's former club West Ham on the opening weekend, followed by home games against Manchester City and Everton.
Mackay, appointed manager in June 2011, acknowledges Cardiff face a tough start to the campaign and says there will be no let up throughout the season.
"We're in one of the toughest leagues in the world and it's where we want to be," Mackay added.
"We had an awful lot of success last season and an awful lot of good days.
"But we also fully understand the difference this season is going to be. It's something I'm going to be very open with the fans [about] in terms of the backing they are going to have to give us at certain times of the season.
"It is going to be difficult. This season we're going to be playing against some real top teams and it's something that we've got to look at over the whole season.
"It's over the whole season that we make sure we survive and stay in this division."