Swansea City: Ben Davies relishing top-flight rivalry
Last updated on .From the section Football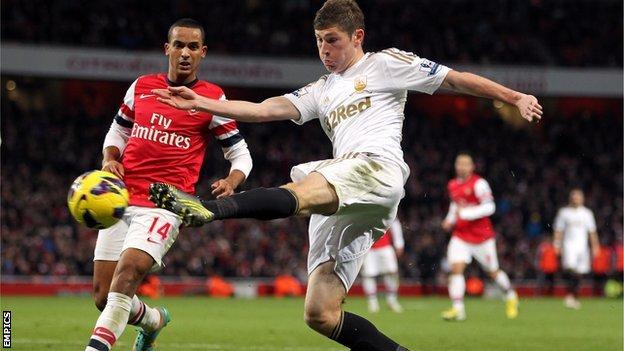 A broad grin spreads across Swansea City defender Ben Davies' face when I raise the subject of him playing against Cardiff City next season. It appears he has been looking forward to a south Wales derby for a while.
There is a good reason why he is relishing the clashes between the Swans and Bluebirds. Davies, 20, is that rarest of breeds in a Premier League dominated by foreign imports: the hometown boy turned first-team regular, who grew up supporting the team he now plays for.
"It's great to have that derby back," the Wales left-back told BBC Sport. "The first one I went to was a Carling Cup game at the Liberty Stadium in 2008. The atmosphere that night was incredible, one of the best I have seen there.
"Those games were brilliant to watch as a fan and it is amazing to have the chance to play in them, especially in the Premier League."
That adds extra spice to a contest that has been played out 105 times before. Both clubs have been in existence for more than 100 years but when they meet, in Cardiff on 2 November and in Swansea on 8 February, it will be during their first season together in the top flight.
"It means there is so much more riding on it," Davies explained. "And I think it will benefit both teams, in the way that I don't think either of them will want to finish below the other.
"Maybe it is just because I am a local boy that I see it that way, but I am sure a lot of the players will come to appreciate the situation that way because of the way the fans will see it - and they won't want them to have to suffer."
Davies, a fluent Welsh speaker who still lives with his parents (both Swansea season-ticket holders), is also looking forward to facing Cardiff at senior level for the first time.
"I played for Swansea against them a good few times when I was around eight, nine and 10 years old," he added. "And then once when I was 15 in the Welsh Youth Cup as well. We beat them on penalties, which was quite sweet at the time."
There has been a lot more to celebrate for Davies of late. He started last season on a development contract, earning £400 a week, but made his first-team debut in August and went on to make 44 first-team appearances, signing a new three-and-a-half-year deal in November 2012.
Davies missed out on the shortlist for the PFA Young Player of the Year, but it is hard to think of many rookie players who had a bigger impact after making their senior debuts in the top flight last season.
His consistent displays after he replaced the injured Neil Taylor earned him plenty of plaudits as he won five Wales caps and Swansea's Young Player of the Year award, and he was a regular in Michael Laudrup's side as they lifted the Capital One Cup and finished ninth in the Premier League.
Not bad for your first year as senior professional. But then Davies is used to multi-tasking. He was a talented rugby union outside half and a wicketkeeper as a boy and, as an apprentice with the Swans, he spent an hour and a half a week studying for his maths A-level with the teacher from his old comprehensive school.
"I just thought that, if football didn't work out, I would have something to fall back on," Davies said. He ended up with an A*, but it does not look like he is going to need it.
"When I came on for my debut I was thinking 'I will never know if I am ready until I try'," he added. "It was sink or swim really, but when somebody like Michael Laudrup has confidence in you, then it is a big boost. I thought adapted pretty well.
"The first few weeks, I was wary of who I was going to come up against but by the end of the season I was treating teams like Manchester United like any other game. I realised that, if I was worrying too much about who I was playing, I was not focusing on how I was playing myself."
His progress through the ranks has been rapid, but there is no danger of Davies getting carried away by the speed of his success - he just moves on to the next challenge.
Next season, he is relishing Swansea's European campaign and also knows he faces a fight for his place for club and country from the fit-again Taylor, back after his long lay-off with a broken ankle.
Just as he did with the Cardiff-Swansea dynamic, Davies thinks both parties will benefit from the rivalry.
"When I got my place in the Swansea team, I said to myself that when Neil is back fit I want to cause a problem in the manager's mind over who he is going to pick," Davies said.
"I feel I have done that. Neil and I both have to be on top of our games next year so we will pushing each other all the time. That should get the best out of us - and then it is up to the manager to make a decision."