Brazil protests: Fifa denies Confederations Cup cancellation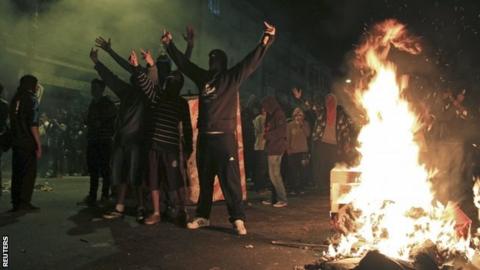 Fifa has denied that the Confederations Cup could be cancelled because of the mass protests across Brazil.
The dress rehearsal for the 2014 World Cup is taking place amid demonstrations involving more than one million people in 100 cities across the country.
An 18-year-old was killed as a car rammed into a crowd of protestors in the state of São Paulo on Thursday.
Reports in the Brazilian media say the football tournament may be cancelled, but Fifa has dismissed these reports.
"Neither Fifa nor the local organising committee have ever discussed the possibility of cancelling the tournament," a Fifa spokesman told BBC Sport. "There are currently no plans to discuss it.
"These reports are pure speculation."
Protests began more than a week ago over high transport fares but are also highlighting corruption and the cost of next year's football World Cup.
The Confederations Cup is made up of eight teams, including the World Cup winners and the reigning champions of the six confederations that make up Fifa - plus the next hosts, Brazil. Matches are taking place at six venues across the country.
There are eight games left in the tournament, which ends with the final on Sunday 30 June. Italy and world and European champions Spain are amongst the countries taking part.
Play is due to resume on Saturday with Italy facing Brazil in Salvador and Japan playing Mexico in Belo Horizonte.
Brazilian media carried reports on Friday that the tournament was in danger of being cancelled.
One report said a team was considering leaving because they were worried about relatives of players, in the country to watch the matches. It was also reported that Fifa was negotiating with teams to try and persuade them to stay.
A statement from the Italian Football Federation dismissed suggestions the Azzurri had considered pulling out of the tournament.
Federation vice president Demetrio Albertini insisted: "We have never even considered the possibility of withdrawing from the Confederations Cup. Reports that we want to retire are a complete fabrication.
"We are sorry for what is happening here in Brazil, but our security is assured with great professionalism and we are calm."
The 2014 World Cup begins next year on 12 June.