Kwesi Appiah warns returning Ghana stars about conduct
By Michael Oti Adjei
BBC Sport, Accra
Last updated on .From the section Football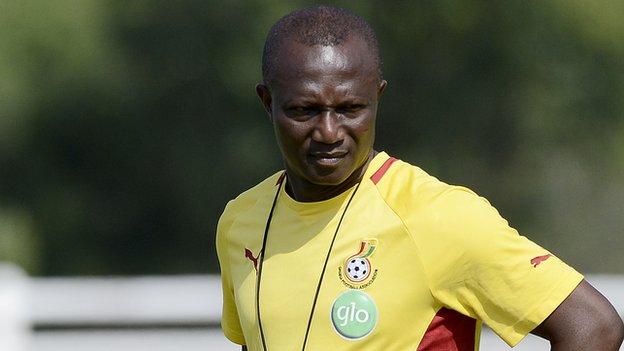 Ghana coach Kwesi Appiah has warned high-profile names on the verge of a return to international football with the Black Stars that they will have to adopt his values or risk being dropped.
The Ayew brothers Andre and Jordan as well as Kevin-Prince Boateng have all indicated they are prepared to come out of international retirement and make themselves available for the 2014 World Cup qualifier against Zambia in September.
Andre and Jordan quit in February when both players were dropped from Ghana's Nations Cup squad but announced their return to international football recently after a meeting with Ghana President John Mahama.
Ghana Football Association president Kwesi Nyantekyie says Boateng has indicated he will be available for Ghana now after two years of retirement.
Appiah revealed he is happy in principle that the players are making themselves available but he is been keen to point out that they will receive no special treatment when they return.
"It is about Ghana at any given time so if a player is available and it will help, why not? It's important that we don't close our doors to any Ghanaian player and widen our scope", Appiah said.
The general belief is that after the involvement of President Mahama in the return of the Ayews, Appiah will feel an element of pressure and include them in his squad - but he disputes that.
He said: "I don't believe in pressure. The president never said they should come back and be in the first team. The president said they should make themselves available and for me that is a good thing because it is important that players are available for the nation at any given time.
"While the players make themselves available, they will be invited on merit and based on the demands of every game."
Of the possible return of AC Milan midfielder Boateng, Appiah added: "I spoke to him recently and he never told me he was returning but there were things he said that indicated he may come back.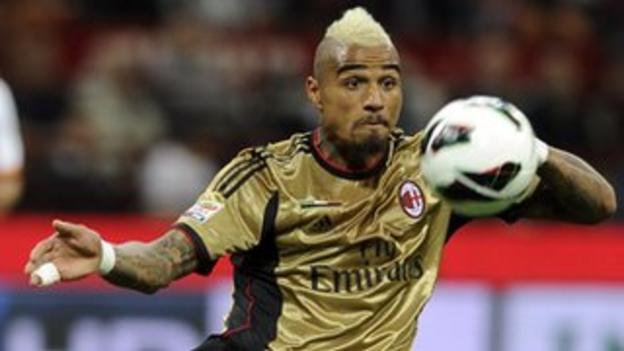 "As a coach I have to appreciate that but everything now will depend on him. He is a great player and it will be good to have him but if he is coming back it will be crucial that he is killing himself for the team and for the country."
Appiah, a former Black Stars captain, is aiming to become the first Ghanaian to qualify the team for a World Cup but his period in charge of the team has felt like a trial from day one.
There is a belief shared by some Ghana fans that Appiah has not got the personality to deal with the big names and egos in the squad.
He has also had to deal with accusations that his relationship with the Ayews has been influenced by his relationship with their father Abedi Pele, who took over as captain in the 1990s when Appiah was stripped of the role.
"I may be quiet on the outside but I am not quiet inside", insists Appiah. "I don't bear grudges and I always believe you need to give people a second chance.
"People have suggested that since 1992 I have been at loggerheads with Abedi Pele but that is not true. Last year I visited him in his house about three times.
"In camp, his sons call me daddy. But even if I had a son and I feel that at a particular point he cannot be in the team, he will not be in.
"And if there are a set of rules, my son will have to follow it. This is my work. I am responsible for the decisions I make and I want to make them with only one consideration - the interest of Ghana."
No-one will be complaining if his decisions help Ghana reach the play-offs for a spot at next year's tournament in Brazil and subsequently a third straight appearance at the World Cup.