Cliftonville's Barry Johnston on a wing and a prayer

By Keir Murray
BBC Sport Scotland
Last updated on .From the section Football11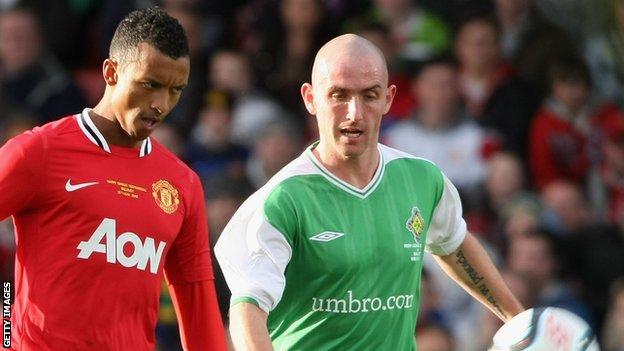 It's hard to argue with Barry Johnston's Champions League logic.
"The way we're looking at it," explained the part-time aeroplane builder and part-time Cliftonville midfielder, "is that if Celtic can beat Barcelona, why don't we have a chance of beating Celtic?
"It's those odds."
The Irish Premiership winners will host the Scottish Premier League champions on 17 July in the first leg of their second round qualifier, with the return six days later.
The Uefa draw had placed the Scots at home first but , thereby notionally keeping the tie "alive" going into the return leg.
Johnston, 31, can barely contain his excitement. He describes himself as "an absolute Celtic fanatic".
"I'm still in shock. It's the only draw I wanted," he told BBC Scotland.
"It's just the thought of going out and playing at Celtic Park.
"Ever since I was a kid, everyone who knows me knows if I had one choice, to play any game in the world, it would be an Old Firm game at Celtic Park.
"I want to go out and have the best game I can.
"My family are relatives of [Celtic 1940/50s favourite] Charlie Tully, so my cousins, brothers, mum and dad will be over in Glasgow."
Johnston's day-time occupation building aeroplane wings sounds like a riveting job but he admitted to being temporarily distracted when news of the draw came through.
"Most of us have jobs so we were all texting one another," he said.
"The chairman put it on Twitter that we'd got Celtic and word spread like wildfire.
"My legs went numb, my hands started shaking, my heart started pumping at a million beats a minute. It's just unbelievable."
The Reds, with crowds of about 1,200, are not the wealthiest team in their league but they have managed to piece together a group of players over the past four or five years that their rivals couldn't match last season.
"We were very close to the treble," Johnston explained.
"We lost the Irish Cup final [a 3-1 defeat by Glentoran at Windsor Park] in the last game of the season. It was a game too far.
"We won the league at a canter. I think at one stage we won 14 games in a row. It was a big season for us, it will probably never be repeated by us.
"We've got a lot of good players at the one time and we've all gelled. No-one has left and we've added a few extra players, so it's looking pretty good for next season."
Johnston reckons "95%" of his team-mates have been to a Celtic game so it's not just him who is drooling at the prospect of the two matches; players, fans and the club treasurer are all delighted about the draw.
"One game against Celtic could keep us going for about 10 years," he suggested.
"I'm sure the club will make an absolute fortune from it. Our support is from north and west Belfast, which are massive Celtic areas.
"The tickets will be like gold dust."
So, what are the chances of an upset for Neil Lennon's men when they visit Reds' Solitude ground?
Johnston said: "We have a plastic pitch, things like that could work to our advantage, but in all honesty Celtic have played in the Nou Camp and I don't think they'll find our wee stadium too intimidating.
"Neil Lennon will put out his strongest team because it's the Champions League. It will be an amazing experience for us.
"Lennon's a local fellow. Belfast and [Lennon's home town] Lurgan are only 20 minutes down the road. He's an absolutely hero where we're from. He'll be treated like a king no doubt.
"We get it down and pass it. We probably broke the mould in our league by playing good football all year round.
"Our manager likes us to go out and express ourselves. We'll give it a go."
In his central midfield role, Johnston will come up against experienced internationals who he's determined to impress, but he acknowledges the quality of opponent.
He said: "Joe Ledley and Scott Brown are two fit boys, plus there's Beram Kayal.
"I watch those boys every single week so I'm dreading it a bit."
Lennon, meanwhile, admits to being "wary" of the tie. There seems little chance of him fielding a shadow side.
He said: "It will be the first time I will have taken Celtic to a competitive game back home so that is something to look forward to, but we will be totally motivated, obviously, to play as strongly as we can and try and win the tie."
If Reds manager Tommy Breslin can harness the enthusiasm of Johnston and his team-mates, a shock on the scale of Barca's humbling at Celtic Park could be in the offing.
Few would bet against Johnston getting off to a flier.