Aldershot Town: Community ownership model unlikely
Last updated on .From the section Football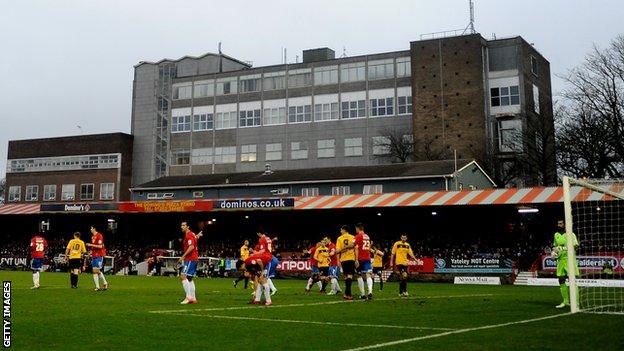 Aldershot Town's fans are unlikely to buy the Conference Premier outfit and take it out of administration.
The Shots Trust have raised more than £80,000 and are short of their original target of £500,000.
Ian Goodwright, deputy chairman of the Shots Trust, told BBC Surrey: "We are well short of where we would like to be in terms of coming to the table with a viable bid."
He added: "Of the 700 or so people that originally pledged to provide funds for a community-funded scheme, only 200 of those so have done so at this current time."
The Hampshire club will begin next season in the Conference on -10 points and Goodwright says the Shots Trust are happy to work alongside any viable bidder.
"We've been talking to various parties and have talked and are continuing to talk with the preferred bidder," Goodwright continued.
"We will work with whoever wants to take the club forward. We would support anybody who is prepared and able to take the club forward."
Despite their failure to raise enough money, Goodwright has urged fans not to abandon the community ownership model.
"The terms of our account is that if we are unable to move forward with the community share scheme then those who have deposited money are free and able to take it back," he said.
"But we have raised a significant sum of money and we would like members to hold fire for the moment and see how things pans out.
"The deal which is on the table is not a done deal and if that deal does not go through we would like to be in a position with a pot of money which we can build on and use to offer an alternative bid."