Doncaster Belles lose FA appeal to stay in women's top flight
Last updated on .From the section Football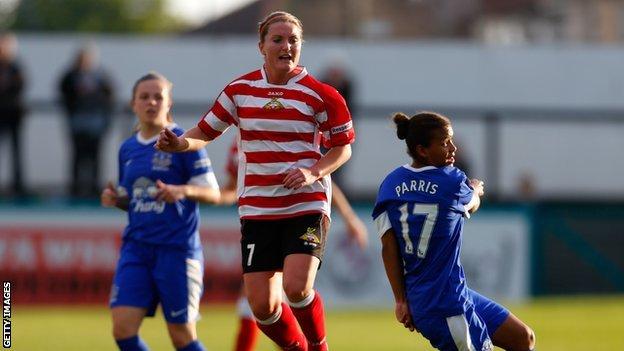 Doncaster Belles have been unsuccessful in their appeal to the Football Association to remain in the top tier of women's football.
The FA decided in April that the club would play in the second tier of the Women's Super League (WSL) next season when it expands to two divisions.
The Belles have been a constant in the top flight for 22 years.
According to the Belles' website, they are "consulting as to whether further legal action should be pursued".
Vice-chairman Alan Smart said the South Yorkshire side's fate should have been decided by promotion and relegation not administration.
"It's an unfortunate period in this proud club's history, a very emotional time for all," he said.
"Football shouldn't be about administrative decisions. No-one has a divine right to play at the highest level forever but the beautiful game should be about the meritocratic winning or losing of promotion or relegation after a season full of highs and lows."
The decision to split the league into two tiers, WSL1 and WSL2, with relegation and promotion between the two, is part of the FA's five-year plan to make women's football the second most-played sport in the country behind men's football.
The FA decided which teams should play in each division via an independent panel that assessed clubs on their financial sustainability, with factors such as management, marketing and the quality of coaching staff and facilities considered.
Doncaster learned the news after one game of this season, with boss John Buckley calling the situation "farcical". The club will be replaced in the top flight by newcomers Manchester City Ladies.
The FA said in statement published on Saturday: "The decision by the selection panel not to offer the club an FA WSL1 licence was due primarily to them being unable to satisfactorily meet minimum facility requirements, alongside further concerns on their commercial and marketing strategies.
"The FA would also like to confirm that the licence offer to compete in The FA WSL2 next season is still open to the club, subject to licence criteria that still need to be met."