Danny Wilson: Hearts signing of Liverpool defender confirmed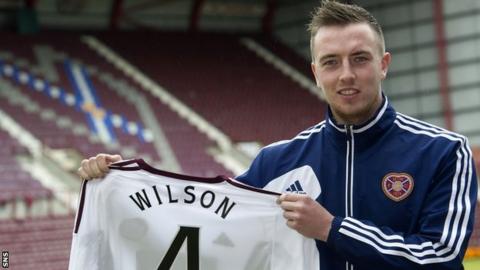 Danny Wilson will remain at Hearts after the club received confirmation that signing the defender would not breach their registration embargo.
The 21-year-old agreed a three-year deal at Tynecastle following a loan move from Liverpool last season.
Wilson was still on loan to Hearts until 30 June and the ban, imposed after the club entered administration, applies only to new players.
"I'm delighted that he's signed a deal," said Hearts boss Gary Locke.
"He was a signed Hearts player at the time we went into administration so I think that was the reason we were able to sign Danny.
"I think it's important that we try and be as competitive as we can on the pitch and we'll certainly have a better chance with players like Danny in the team.
"He's a fantastic player, a full international."
It is believed Wilson, who has five Scotland caps, has taken a 50% wage cut on the contract he had previously agreed with the club, with Jamie Hamill, Jamie MacDonald and Ryan Stevenson having already agreed to reduced wages.
Hearts had been in discussions with Wilson since striker John Sutton decided he would not accept a 50% cut in his salary.
and
"When John Sutton moved on, we thought there was a chance of maybe being able to keep Danny, which proved to be the case and I'm absolutely delighted because I was really disappointed when we were going to miss out on him," Locke told BBC Scotland.
"When we knew that we could get him signed up, Danny was only too willing to do his bit as well. He's had to take a wage cut, so it's a mark of the lad that he wants to be here.
"He's made a lot of sacrifices to be here, as have other players and I can't thank them enough."
The registration embargo was imposed by the Scottish Premier League, which has since merged with the Scottish Football League to become the Scottish Professional Football League.
An SPFL statement read: "The SPFL player registration of Heart of Midlothian FC player Danny Wilson would, had he not agreed a contract extension, have terminated on 30 June.
"The SPFL has now received documents extending the contract of the player.
"As a result, the player's existing SPFL registration is automatically extended and is not affected by the embargo on new SPFL player registrations currently in place on Heart of Midlothian FC as a result of Heart of Midlothian plc (in administration) being in administration."
Meanwhile, Locke revealed he has received offers from coaches who are willing to assist him free of charge.
"There's one or two that I've spoken to and that I really respect in the game and they've offered to come in and help me for free," he said.
"It's something that I'm looking at the moment, it's something that I really appreciate.
"And it's not just these boys. People that I'm going to face this season in the opposite dugout, they've all been in touch and I really appreciate all their support.
"A lot of coaches and managers have been in touch and wished us all the best, saying that they want to see a strong Hearts again. It's people that I really respect in the game, fantastic coaches, fantastic managers. I've been really humbled by the amount of phone calls I've had."
Meanwhile, a rally at Tynecastle on Sunday raised in excess of £30,000 for the club.