Blackpool accept Cardiff City offer for Tom Ince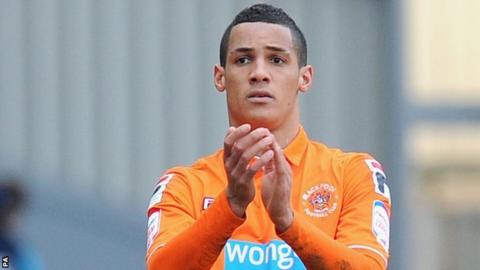 Blackpool have accepted a bid from Cardiff for winger Tom Ince, according to his manager and father, Paul Ince.
Cardiff are looking to strengthen after promotion to the Premier League and are set to sign Denmark striker Andreas Cornelius from FC Copenhagen for £7.5m.
But Paul Ince believes it is only "50-50" whether his 21-year-old son will move for a fee reported to be £8m.
"Cardiff have come in massively for Thomas, the chairman's [Karl Oyston] accepted the offer," Ince said.
"I'm not sure what the offer is because I've been away but it's been accepted.
"So it's a case of when he comes back next week, Thomas, we'll sit down and see what he wants to do."
Blackpool have been on warm-weather training in Portugal, but Tom Ince was given extra time off because of his involvement with England Under-21s at the European Championship, and is not due back at the club until a week on Monday.
He is one of the most sought-after players in the Championship having established himself as a goal-scoring midfielder at Bloomfield Road, scoring 18 times in 49 appearances last season.
Reading failed with an offer for Ince in January, while he had been expected to move to Liverpool during the winter transfer window, but a disagreement over his value brought that deal to a halt.
Ince told BBC Late Kick Off North West in March that he will not let his highly rated son leave Bloomfield Road unless he joins a club where he is guaranteed to play.
And he reiterated his son's desire to stay on Sunday, adding: "He loves it here. He said to me, 'I'm in no rush to get to the Premier League, I'm in no rush to leave Blackpool'."
"I think it's 50-50 at the moment. It's a tricky one for me because obviously you want your son to be playing in the Premier League, but you obviously want your son to be playing with you.
"As far as improvement is concerned there's still a long way for Thomas to go and will he get that if he went to the Premier League? I'm not too sure.
"I know what he needs because he's grown up with me. Another year wouldn't hurt him at Blackpool."