Are Brazil World Cup contenders after Confederations Cup win?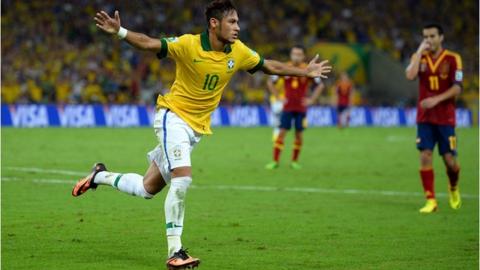 Host nation Brazil produced an impressive display to stun world and European champions Spain to claim the Confederations Cup title.
But does the 3-0 win mean the Selecao are now genuine contenders to win the World Cup on home soil next year? And are Spain still the same force they were?
Here, the BBC's football pundits discuss the futures of the two teams and evaluate their battle in Rio de Janeiro's famous Maracana stadium.
Former Chelsea and Italy striker Gianluca Vialli
"Brazil are going to be very difficult to beat in a year's time. They play like a team with the right spirit and the right tempo.
"They have handled the pressure very well - to play in Brazil is never an easy thing. They played with courage and were so aggressive.
"I know it has been a predictable, sometimes clueless, lethargic Spain, but that shouldn't take anything away from Brazil.
"It was a strange performance from Spain but I think they're going to give the senior players like Xavi and Andres Iniesta another year for the World Cup.
"The defeat is mainly down to their physical state. If you're not as sharp as your opponents then you're going to lose."
World Cup winners: Brazil
Ex-Liverpool and Scotland defender Alan Hansen
"I thought it was a great night of football, with an extraordinary atmosphere created by the crowd and the Brazil players responded. They thoroughly deserved to win the match.
"It's a bit premature to write off Spain but they were a shambles in the final. We were only saying in the European Championship last year that Spain were the best team we had ever seen.
"Brazil made them look poor. But I think they're methodical - I'm still not sure about them.
"However, they wanted it more than the Spanish. There was no resistance whatsoever."
World Cup winners: Argentina
Former Newcastle and England striker Alan Shearer
"It is amazing that a couple of months ago there was pressure on coach Luiz Felipe Scolari.
"The Brazilians now, in tournament football, have an edge about them. Before that it was friendlies. Now, as hosts of the 2014 World Cup, they go back to friendlies but they can say 'judge us when it matters'.
"It's not over by far for Spain but my concern is that against Italy they were poor and that trend continued for the 90 minutes against Brazil.
"There have been cracks in the last few days but it's still too early to say it's all over.
"Everything that could have gone wrong did, but that happens. Champions do tend to come back so it is too early to write them off.
"Teams have played without pressure throughout the tournament and there have been some good games. Teams have gone forward and tried to win games. Hopefully that is a trend that will continue."
World Cup winners: Argentina
Ex-Liverpool and Republic of Ireland defender Mark Lawrenson
"In many ways, by winning this competition it just increases the expectation on Brazil for next year.
"In Spain's very first game of the Confederations Cup we described their performance as a masterclass, but it was definitely roles reversed in the final.
"The heat and humidity took its toll. There will also be the travel to contend with next year - Brazil is a massive country.
"This doesn't mean Spain are no longer a great side, but there are a few questions being asked."