Football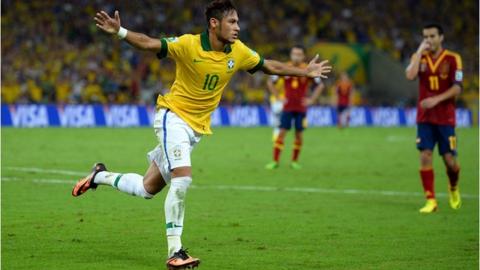 Spain have had it good for so long on the football front that it was inevitable that disappointment was lurking around the corner.
The country's national team have won the 2004 and 2008 European Championship as well as the 2010 World Cup, but a defeat by Brazil in the Confederations Cup final ended their unbeaten run in 29 competitive games.
It would be futile to suggest these recent blows signal an end to Spain's domination on the international front but you might be forgiven for believing that the powers of Vicente del Bosque's team are on the wane.
The 3-0 loss to Selecao at the Maracana in the dress rehearsal tournament for next year's World Cup was Spain's heaviest defeat in a competitive match for 18 years.
As Del Bosque's players stood dejectedly watching Brazil celebrate their victory, would doubts have been creeping into their heads or will they merely consider that the result was a mere blip?
"Everybody thinks that Spain should win every match and reach every final but it's not as easy as that," defiant Spain striker Fernando Torres told Fifa's website.
"This team doesn't need a wake-up call, nor do we need a defeat to regain our motivation."
He added: "One year from now, hopefully we'll be here and have a chance to make up for today, not necessarily to gain revenge on Brazil, but for our own sake.
"We're world champions and two-time European champions and have achieved something that no other team has ever done: won three major tournaments in a row.
"Next year we're coming over here to make it four."
Spain are expected to book their place for the 2014 World Cup as they top their qualification group by a point from France and have three games remaining against Finland, Belarus and Georgia.
But what, if any, would be the concerns for Del Bosque on the road to claiming a fourth major crown?
fatigue
evolving
Spanish football's two giants of Barcelona and Real Madrid reached the semi-finals of the Champions League last season only to suffer comprehensive defeats at the hands of Bayern Munich and Borussia Dortmund respectively.