Spain need to refresh not rebuild after Brazil defeat - Pat Nevin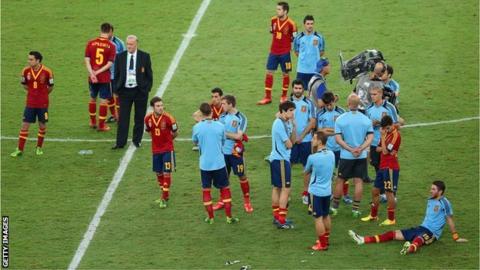 Spain have had it good for so long on the football front it was inevitable that disappointment was lurking around the corner.
The country's national team have won the 2008 and 2012 European Championships as well as the 2010 World Cup, but Sunday's defeat by Brazil in the Confederations Cup final ended their unbeaten run of 29 competitive games.
It would be futile to suggest the setback signals an end to Spain's domination on the international front, but you might be forgiven for starting to think that the powers of Vicente Del Bosque's team are diminishing, along with the country's top club sides.
Barcelona won the Champions League in 2009 and 2011, but their humbling by Bayern Munich last season had many questioning the effectiveness of the Catalan outfit's tiki-taka (short passing) style.
Spain's 3-0 loss to Selecao at the Maracana in the dress rehearsal tournament for next year's World Cup was Spain's heaviest defeat in a competitive match for 18 years.
And, as Del Bosque's players stood dejectedly watching Brazil lift the trophy and celebrating their victory, would doubts have been creeping into their heads or will they consider that the result was just a blip?
Spain striker Fernando Torres defiantly said that the team did not need "a wake-up call" or "a defeat to regain their motivation" and that they would be back in Brazil next year to make it four major tournament wins in a row.
However, while BBC Sport pundit Pat Nevin refuses to predict any Spanish downfall, he believes there are warnings to heed, especially when it comes to squad management.
"There was a jaded look to a lot of the players against Brazil," said Nevin.
"It's maybe not a surprise considering the kind of seasons that most of those players have had; not just internationally but domestically as well.
"Spain's players have had very few rests. You could say the same about the Brazilians maybe but, player for player, it would seem that for the important figures for Brazil are a bit younger."
Most of Spain's players have not had a summer break since 2011 and it appears the effects of hectic club schedules, aligned with the international calendar, are taking a toll.
While Nevin believes "tiredness and fatigue is the biggest worry" when it comes to Spain, he is also concerned by the over-reliance on Andres Iniesta who made 57 appearances for club and country in 2012-13.
Andres Iniesta statistics
Competition
La Liga and CL
Spain
Season
Games
Goals
Assists
Games
Goals
Assists
Source: Opta
2008-09
35
5
10
5
0
2
2009-10
38
1
5
15
3
3
2010-11
44
9
9
9
1
2
2011-12
35
5
10
13
2
4
2012-13
41
4
17
16
0
3
The 29-year-old is the pivotal playmaker for both Barcelona and Spain, with Nevin believing that some of the burden on the international stage needs to lifted from the midfielder's shoulders.
"The amount that is expected from Iniesta is extraordinary," said Nevin. "If he doesn't play at his best or if a team nullifies him, like Luiz Gustavo and Paulinho did for Brazil, then it is a problem for Spain.
"They have really good other players like Xavi, Juan Mata, David Silva and Cesc Fabregas but, for me and for quite some time, the core player has been Iniesta. If you stop him then they aren't quite the force that they were in the past.
"It would be nice to see the other players being sharper as Mata was quiet against Brazil and Silva has not had as good a season as he has in the past.
"That can happen with the expectation and the lack of rest that they get. It can be very hard to peak 60, 70 or 80 times a season and to do that for a number of seasons without very little - or any - break."
In the 2012-2013 season, Spain's winning percentage from competitive games has dipped to 60% after being 78%, 100%, 91% and 91% in the respective international campaigns prior to that.
As more teams have become accustomed to their metronomic passing game, it appears opponents are also working out ways to thwart La Roja.
The same could be said on the club front. Barcelona and Real Madrid both reached the semi-finals of the Champions League last season, but were comprehensively beaten by Bayern Munich and Borussia Dortmund respectively.
The German sides played high-pressing, high-energy games to combat the La Liga pair and Brazil applied the same logic to find the solution to combating Spain on Sunday.
"We have seen with Barcelona, who play very similarly to Spain, that the best teams have found a way of disrupting or stopping them," said Nevin.
"I certainly feel that Barcelona are not the team that they were and the signing of Neymar might make a difference to that and they will adapt and change themselves.
"Spain have been at the top for quite a while now and it is exceptional that they have stayed there for so long. The end will come eventually and it is a question of when.
"But if their system is not working as well as before then you need to adapt. You need to change, move on and find a new answer. It will be the case that Spain have to do that eventually, but whether they have to do that right now is something I think we will know within a year.
"They have still got phenomenal players and a great system, but you are beginning to see some weaknesses in it."
Spain still topped most of the key statistics tables in Brazil. They had the most number of passes and pass completion percentage in the tournament, and had the most shots in addition to scoring the most goals.
"Let's not forget they got to the final," said Nevin, who also highlighted the absence of injured midfielder Xabi Alonso in South America as a key setback for Spain.
"You cannot write them off and it would be silly to do so. But there is an argument that Spain need to slightly reassess themselves in a couple of areas."
If Del Bosque is considering changes to his first-team personnel, he can cast an eye at the likes of his current supporting cast as well as the Under-21 side, who won this summer's European Championship.
Isco, Thiago Alcantara and Asier Illarramendi were the country's star U21 performers and are seen as eventual replacements for Iniesta, Xavi and Alonso.
There is also plenty of depth in the current first-team squad and Nevin believes it is a refresh rather than a rebuild job for Del Bosque, who has some crucial decisions in front of him.
"It's quite a common theme for teams that if you don't keep refreshing then things can go downhill quite quickly," said Nevin.
"Players age or those that are a fulcrum of the team may not be able to deliver to the same high standard and, if you keep sticking with them, you are not going to win a World Cup.
"You need to refresh all the time and it may well be that it's up to somebody from the bench or the Under-21s to go and grab that position. The fortunate thing that Spain have above everyone else are plenty of options.
"They can win the next World Cup but they need to make sure that if there are any players fading then they need to be replaced.
"Somehow they also need to organise some management of the squad to make sure important players are rested. That is easier said than done as Del Bosque is not in control of that."
Spain Since Winning Euro 2008
Competition
Competitive
Friendly
Total
Season
G
W
D
L
W%
G
W
D
L
W%
G
W
D
L
W%
Source: Opta
2008-09
11
10
0
1
91%
4
4
0
0
100
15
14
0
1
93%
2009-10
11
10
0
1
91%
7
7
0
0
100
18
17
0
1
94%
2010-11
5
5
0
0
100%
6
3
1
2
50
11
8
1
2
73%
2011-12
9
7
2
0
78%
8
5
1
2
63
17
12
3
2
71%
2012-13
10
6
3
1
60%
6
6
0
0
100
16
12
3
1
75%