Jersey Wanderers plan to follow Guernsey FC and play in the UK
Last updated on .From the section Football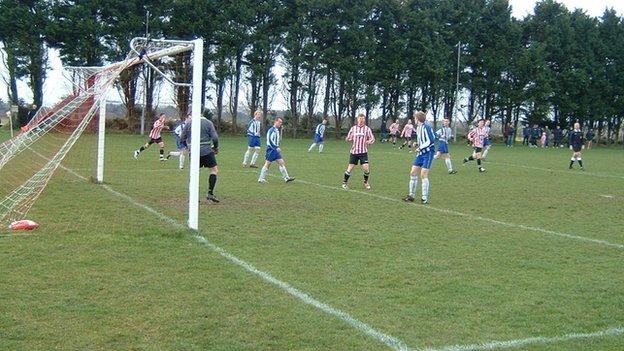 Jersey Wanderers vice-president Bob Lawrence says that they plan to follow Guernsey FC's lead and start entering competitions in the UK.
when former player Nigel Le Quesne stepped in to sponsor the club.
"There's a new mood about the place," Lawrence told BBC Radio Jersey.
"We're planning ahead to see what it would cost to go into the Hampshire Cup, probably from the 2014-15 season and build from there," he added.
"We're able to look forward now and we're very ambitious.
"We're very keen to build on the sponsorship. There's a much more commercial focus now that the JTC Group have got involved.
"This is a journey we're going on. We're not going to instantly go out and win the league and all the cups, but our aim is to win the league within two years and we're looking at playing in UK competitions."
Jersey Wanderers, who finished third in the league last season, are the oldest football club on the island.
"Clearly we've got to strengthen the squad," continued Lawrence.
"Obviously, to follow Guernsey FC it's a different league in terms of sponsorship and the amount of money required.
"But we could be on that path and, if it goes well in the Hampshire Cup, and we look to secure our longer term future at JTC Park, then why not?"