Doncaster Belles: John Buckley to stay on as manager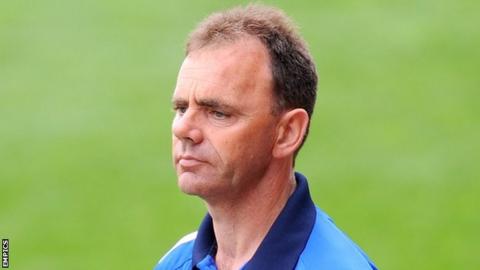 Manager John Buckley has promised to stay and guide Doncaster Belles back to the top division of women's football after their controversial demotion was confirmed by the Football Association.
Buckley told BBC Radio Sheffield he is committed to the club.
"I've been here a long time," said the former Doncaster Rovers winger.
"I just need to sit down with the players and make sure they stay focused on everything we need to do, this season and next season."
On Saturday the club learned their appeal against the FA's decision to demote them to the second tier of the women's Super League (WSL) when it splits into two next season had been unsuccessful.
Splitting the league in two, with relegation and promotion between the divisions, is part of the FA's five-year plan to make women's football the second most-played sport in the country behind the men's game.
The Belles have been in the top flight for 22 years, and are one of the pioneers of the women's game, winning numerous trophies - particularly during their early years.
More recently they have been overtaken by better-funded clubs like Arsenal, Chelsea and Everton, but they have remained competitive.
However, the FA decided which teams should play in each division via an independent panel that assessed clubs on financial sustainability, with factors such as management, marketing and the quality of coaching staff and facilities considered.
Doncaster were informed they would be demoted - and replaced by newcomers Manchester City Ladies - after just one game of this season, timing that Buckley called "incredible".
"I'm just so disappointed it's unbelievable, but we just have to deal with the issues that follow it now," he said.
"There is a possible legal route we can pursue, but we are a club that has to work within a budget.
"We've not got a massive budget, but we manage the budget we have quite well. We don't pay more than we can afford and we have a lot of young players.
"If we were playing teams and getting absolutely murdered I could understand it a little, but we're not.
"The girls will come back and do well, but I just feel so aggrieved, and sorry for everyone at the club.
"We will knuckle down and hopefully make sure we come straight back up. Whether there's any other form of action I'm not sure at this moment in time."