Scotland: Scott Brown hopeful of facing England in August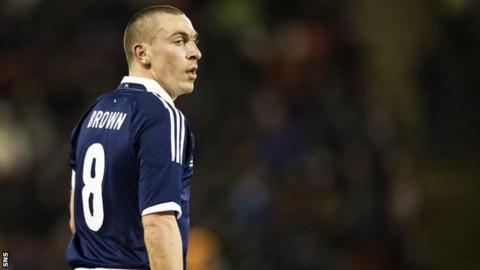 Scotland international Scott Brown has stated his hope that he will be fit to face England in the upcoming friendly.
The Scots travel south for the Wembley friendly on 14 August.
And Celtic captain Brown is eager for the chance to play at a stadium with so much history for Scottish fans.
"It would be great to be involved against England, especially to go down there to Wembley; it'll be a great occasion for the Scottish fans as well as the players," he said.
"I've watched Scotland play a lot of times at Wembley and there was a terrific atmosphere. It's a great occasion and they should bring it back."
Brown endured an injury-hit season last term, but is hopeful that a return to full fitness can earn him a call-up.
"I need to try and get myself fit and try and get a few games before that and see if I'm involved in the squad," he said.
However, Brown insisted his main priority is to get through the season without succumbing to any serious injuries.
"I think the main thing for me is to try and get a whole season injury-free," said the 28-year-old.
"It's going to be hard because of the amount of games everyone plays, and everyone picks up little knocks.
"But it's the big ones you want to stay away from."