St Mirren: Keepers David Cornell & Christopher Dilo sign deals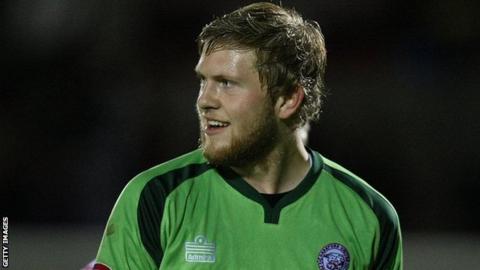 St Mirren have signed two goalkeepers as they seek to rebuild their squad for the new season.
David Cornell, capped at under-21 level for Wales, has joined on a season-long loan from Swansea City,
Fellow keeper Christopher Dilo, 19, has signed a one-year deal after being released by Blackburn Rovers.
"Buzzing to be signing for St Mirren on loan for the year, hopefully help the lads achieve another successful season like the last one," tweeted Cornell.
Cornell, 22, made his Swansea debut in a Carling Cup tie against Scunthorpe in 2009 and spent season 2011-12 on loan at Hereford United.
"Swansea are a football club that share a very similar philosophy to ourselves so I know David will come in here and fit the criteria in every department that we want," said St Mirren manager Danny Lennon.
Dilo, who has been capped for the French under-18 team, played for Blackburn's academy team and made 11 appearances while on loan at Conference Premier side Hyde last season.
"Chris was with us for a while at the tail end of last season," said Lennon.
"Looking forward he shows great potential and with the quality coaching he'll get from Paul Mathers I'm sure we'll see him challenging for the keeper's spot sooner rather than later."