Wayne Rooney: Man Utd star may want new challenge - Mike Phelan
Last updated on .From the section Football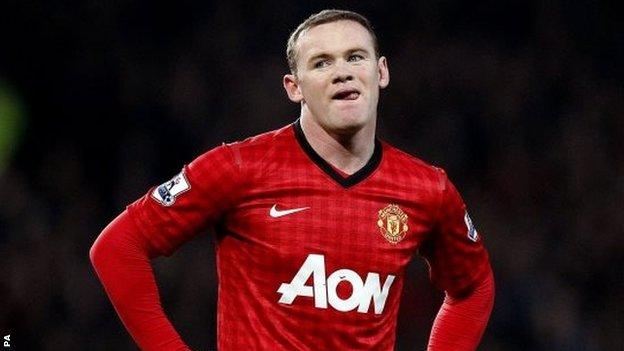 Former Manchester United assistant manager Mike Phelan says forward Wayne Rooney may want a fresh challenge away from Old Trafford.
Phelan told BBC Radio 5 live: "Wayne is at the greatest club you can be at.
"Why would you want to jeopardise that, unless you want a fresh challenge and you feel that challenge isn't being met at Manchester United."
Rooney, who also asked to leave United in October 2010, was linked with a move to Paris St-Germain in April while more recently there has reportedly been interest from Arsenal and Chelsea.
The England striker is this week to discuss his future.
"What will be will be," said Phelan, who left his position as United's assistant manager in May. "I haven't got a clue."
Arsenal midfielder Jack Wilshere is excited by the possibility of Rooney joining the Gunners.
"If it happens, it would be amazing," the 21-year-old told ESPN FC. "He's the type of player who can win you trophies.
"Just to see his name on the team sheet brings fear to the opposition. We could do with a little more of that."
Phelan is not sure how the club's fans will respond to Rooney in light of his reported request to leave.
"That is a difficult one," said Phelan, who suggested Rooney's first transfer request was down to "inexperience".
But Phelan still feels Rooney has plenty to offer the club.
"He might have hit a blip in certain performances, but he isn't the first or last player to have done that," said the former Burnley, Norwich and Manchester United midfielder.
"You have to nurse them through it and hopefully he responds to that. Sometimes you have to crack the whip with him. Wayne has responded as well as he feels he can do for United."
Former United manager Sir Alex Ferguson persuaded Rooney to stay at the club in 2010, handing the forward a new five-year contract.
Phelan revealed that Ferguson was desperate to keep hold of the former Everton player at the time.
"Every player is entitled to express a desire to want to move on," said Phelan. "Any player can do that at any time.
"In Wayne's case, in the first instance in 2010, he took a lot of advice and got steered towards making that call, but the manager was terrific. He talked to him and asked why would he want to leave the club.
"The press conference Sir Alex gave was a bit of a tear-jerker and it was genuine. There was an element that he'd chased this boy and paid big money. He was the boy that could change United."
Speaking about his own future, Phelan said he was prepared "to go outside his comfort zone" to explore opportunities in the lower leagues.
When asked if he would like to become a manager, he replied: "Yes, I would like to. It has always been something at the back of my mind.
"I know a lot about the Premier League and Europe, as that is where I have pitched myself. You now go outside your comfort zone a bit and look at the level down or the level even lower than that.
"I am quite relaxed about the next phase of my career, but it is strange knowing in the next few days you will not be going back to work."