Women's Euros 2013: Women's football's forgotten heroines
By Emily Croydon
BBC Sport
Last updated on .From the section Football186
The Football Association may be celebrating 20 years of running the women's game on 8 July, but some pioneers who played a pivotal role in developing the sport believe their contributions are in danger of being forgotten.
For half a century, female players had to defy an openly hostile FA, and for another 20 years they very much had to go it alone.
The women's game had been at the height of its popularity in 1920 when the Dick, Kerr Ladies team - formed during the war by workers at Dick, Kerr and Co Ltd, a munitions factory in Preston - drew a crowd of 53,000 to Everton's Goodison Park.
But rather than celebrate and build upon their success, in 1921 the FA banned women's football from being played at its affiliated venues.
Why? "The game of football is quite unsuitable for females and ought not to be encouraged," was the reason given.
As England prepare to play in the Women's European Championship later this week, BBC Sport tells the story of those who paved the way for the likes of Rachel Yankey and Kelly Smith to become household names.
Sylvia Gore
Gore was raised in the north west of England and started playing for Manchester Corinthians in the late 1950s, travelling to South America with them at the age of 13.
She was known as the Denis Law [Scotland, Manchester United and Manchester City star] of women's football and once scored 134 goals in one season, but her real place in history came in 1972 when, after paying over £2,000 to go through national trials, she became the first woman to score in a match for an official England team.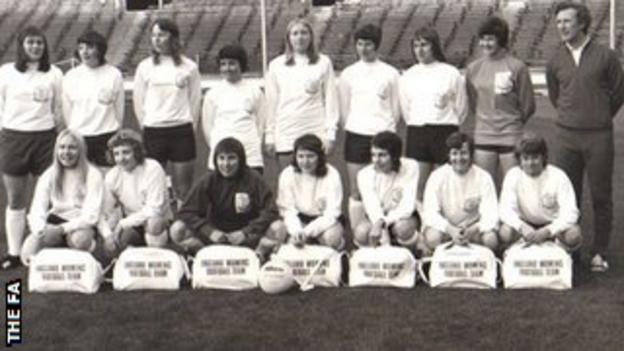 England travelled to Greenock to play Scotland and Gore recalls: "We were losing 2-0 at the time and to run halfway down the pitch to score the first goal was tremendous.
"I was delighted, I was jumping in the air and everyone was diving on me."
England went on to win 3-2.
Gore is one of very few people who were involved in women's football before 1993 - when the FA took over the entirely separate Women's Football Association - to still play an important role in the sport.
She was Wales team manager in the 1980s, has sat on the FA Women's Committee for 20 years and is a delegate for the Women's Super League.
"I'm on the FA website and people can read about me," Gore said, but "nobody realises some of the other players were involved" in growing the women's game.
"When the FA took over, we didn't get everything that we needed straight away," she added.
"But they've built up the women's game and injected a lot of money into it and we're gaining rewards from that."
Sue Lopez
Lopez fell in love the game when she found an old pair of boots in her garden shed.
Despite the fact they were missing any studs, she quickly progressed to play for Southampton Women.
But with the women's game struggling to progress without FA backing, she took an opportunity to move to Italy.
After a brief but illuminating stint at Roma, Lopez says she "really regrets coming back" to Southampton, tempted by the prospect of an official England team being formed.
As it turned out, she was injured playing against men before the trials and missed her country's first international match in 1972 but she did go on to represent England many times.
"In Italy I was playing on superior grounds, it was all very well organised and I didn't have to do anything," Lopez said.
"In England I had to help run a club. We had to pay for everything, our training facilities, our ground facilities and our kit if we couldn't get anyone to help with that. It was ludicrous.
"And it became too much when I'd seen how things could be. I didn't feel that the level of the game was progressing and how could it? We had no structure."
Despite the difficulties, and thanks to the passion of the people involved, the women's game did grow. At club level, the first women's FA Cup took place in 1971, and a national league was formed in 1991 - sadly after Lopez had retired.
"I sometimes wonder if the players today realise what they've got," the 67-year-old said.
"Some of the players I played with in the Southampton team and the England team - I would liken them to the Kelly Smiths and the Faye Whites of today. They were exceptional but they weren't fit enough.
"That's my frustration - I know I could've been an even better player."
Lawrie McMenemy
Lopez saw an opportunity to get a high-profile men's manager involved in promoting the game when Lawrie McMenemy arrived as Southampton boss in 1973.
Five years later, The Dell hosted its first England game, a fixture which was also the first women's match to be played at a Football League ground since the FA's 50-year ban had ended in 1971.
McMenemy told BBC Sport: "I remember turning up [only] because I had to be there and Ron Greenwood, who was England [men's] manager at the time, also had to be there.
"I was a typical old-fashioned man I suppose and I never dreamed that the ladies would be able to play at the standard that they did.
"Ron and I sat together and we thought 'oh dear, here we go' but after 15 minutes we said 'hey, this isn't so bad' and we were very surprised at the quality and the standard.
"Up till then I was probably doing it because I thought it was my duty to help out the community but it was really an eye-opener."
McMenemy, 76, believes the women of that era deserve a lot of credit.
"It's a bit like suffragettes I suppose," he said. "They didn't have to throw themselves in front of horses to bring everybody's attention [to the issue] but by doing what they did and persuading pro clubs like us to put on a show, they stood up for what they believed in."
Patricia Gregory
Whilst watching a Tottenham cup victory celebration with her father in the late 1960s, Spurs fan Patricia Gregory began to wonder why women didn't play football and decided to write to her local newspaper to ask the question.
In reply, Gregory, who didn't even play, received a number of letters asking to join her team - which didn't exist!
Gregory formed a team, White Ribbon, but then found that because of the FA ban the team were unable to hire pitches or use qualified referees.
In 1969, Gregory and Arthur Hobbs, who became the first honorary secretary, organised a first meeting of the Women's Football Association.
Gregory said: "Uefa voted in late 1971 that their member associations should take control of women's football but they left the associations to choose how they would control it."
While most of Europe integrated women's football into their associations, the FA simply recognised the WFA as the sole governing body.
But with no real financial backing it was always a struggle for the WFA and, in 1993, the FA took over its responsibilities.
Gregory says: "We weren't pushing for them to take us over before that because we knew that there wasn't the appetite there - they hadn't embraced the game in the way that, say, the Germans had.
"But in 1993 we knew we couldn't do it any more. We'd done all the spadework and they bailed us out."
But Gregory does feel that the FA's "20 years of women's football" celebrations ignore those who dedicated their lives to women's football in previous decades.
She has written to the outgoing FA chairman David Bernstein, asking him to acknowledge the longer history of the game.
"It's a bit sad and disappointing that what the WFA did for so many years has just disappeared in to the ether," she said.
"Things evolve and it was probably the right time to stop being involved, but what I find hard to accept is that we are whitewashed out."