Lee Carsley leaves Coventry City for Sheffield United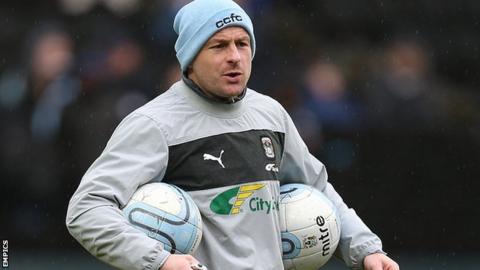 Lee Carsley has left Coventry City to join Sheffield United.
Carsley, 39, links up with his former Everton team-mate David Weir, who recently took over as manager at Bramall Lane.
The former Republic of Ireland international, who served Coventry as a player and coach, takes the title 'assistant manager - technical'.
Weir commented: "Lee is someone I trust immensely and his experience at this level will prove invaluable to us."
Carsley began his career at Derby County and played for Blackburn Rovers, Everton and Birmingham City, as well as in two spells for Coventry.
He has worked in various coaching capacities for City, including development coach, first-team coach and interim manager when Mark Robins left the Sky Blues for Huddersfield in February.
Coventry manager Steven Pressley said: "Lee has been a highly valued and tremendously popular figure amongst both the club's players and staff and I have certainly enjoyed working with him since I arrived here.
"I do though fully appreciate that this opportunity is one he could not turn down and I wish him nothing but the best of luck."