SPFL chief executive Neil Doncaster - judge me on results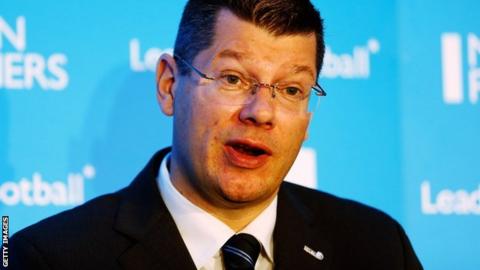 Neil Doncaster has insisted he should be judged by his actions in his new role of chief executive of the Scottish Professional Football League.
Doncaster beat David Longmuir to the role after the pair were interviewed on Wednesday.
"I'm absolutely delighted that I've been appointed to lead the SPFL," he told BBC Scotland.
"What is important is that we don't just talk about it, but that our actions speak louder than words."
The SPFL was created following
Doncaster had been SPL chief executive, while Longmuir, the only other candidate for the role, held the same position at the SFL.
And Doncaster stated his belief that only having two candidates was the right approach.
"There's a great amount of experience in both leagues that have existed prior to now and it's ideal to be able to take advantage of that," he explained.
Scotland's new league body will govern the country's four senior divisions, with the amalgamation effective from this summer, and Doncaster is convinced that the new body will bring a period of stability to the game.
"We've got an awful lot of work to do over the summer to get the league ready for the start of the season," he said.
"What we have to demonstrate to supporters is that the league can deliver, and will deliver, on behalf of all 42 clubs.
"It has been turbulent times - but, despite those turbulent times, we've done a good job, I think, of bringing in good amounts of money to the game.
"I think there's much more that can be done and I'm looking forward to the challenge of developing the game further."
He also moved to allay fears from SFL clubs that they would be swallowed up by the merger.
"The onus is very much on myself, and the board, to demonstrate that we're here for the benefit of all 42 clubs, not just the top 12," he insisted.
Doncaster also said he was relaxed about sponsorship, despite the league lacking a title sponsor.
"Let's wait and see in terms of a title sponsor," he said.
"Sponsorship itself only makes up around 20% of the income of the league historically, so it's not quite as big a deal as some might say.
"Broadcasting makes up the vast majority of the rest, so to have the stable, long-term broadcasting partnerships in place, that underpins the bulk of our revenue."