Real Madrid: Bournemouth keen to learn from Spanish giants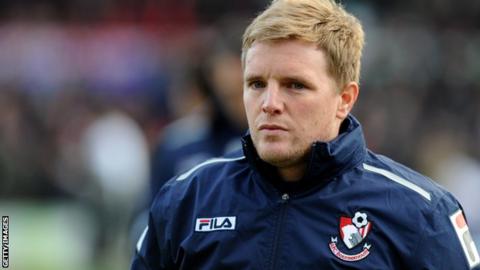 Bournemouth manager Eddie Howe hopes his players can learn from Real Madrid when his side face the Spanish giants later this month.
The newly-promoted Cherries will be Carlo Ancelotti's first opponents since he took charge at the Bernabeu.
"It was a bit of a surprise, but to be playing one of the biggest clubs in the world is a great honour," Howe told BBC Radio Solent.
"If we can learn little things off the world's best, it will be worthwhile."
Bournemouth, who are currently training in Switzerland, begin their pre-season fixtures at FC Zurich this week and have six other games scheduled before Real visit the Goldsands Stadium on 21 July.
"We'll be well into our programme when we face them and any advantage will be gratefully received," said Howe.
"It's not really about the result for us though, it's a case of hosting some of the most established names in football.
"We know we need hard games to prepare us for what will be a really hard season and it won't get any harder than this."
Howe also hopes the game will help build a link between the two clubs, which may benefit the Cherries in the future.
"I think any fixture like this can only help forge and strengthen relationships, so if there is a way we can get a close relationship with a club like Real Madrid it will certainly help us long term," he added.