Jordan Rhodes: Gary Bowyer says Blackburn striker is not for sale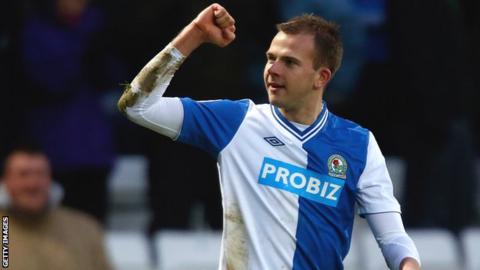 Blackburn manager Gary Bowyer has insisted Scotland striker Jordan Rhodes will not leave the club following reported interest from Bolton.
and he scored 28 goals in all competitions during his first season at Ewood Park.
Bowyer told BBC Radio Lancashire: "I'll keep on having to say it until the end of August - he's not for sale.
"I've spoken to Jordan and he's more than happy here."
Having released long-serving captain Kevin Davies at the end of last season, Wanderers are seeking at least one attacking replacement and are poised to make their sixth summer signing.
When asked to "separate the fact from the fiction" regarding a possible move for Rhodes, Bolton boss Dougie Freedman told BBC Radio Manchester: "Fact is very simple. He's a Blackburn Rovers player and I can't comment on him because it's disrespectful to them.
"Fiction is something we all dream of. He's a wonderful young player with a terrific goalscoring record.
"I think every manager in this division would like to have him in his team, or at least I'd like to think so. But that's the difference between actual facts and fiction."
Last month, Bowyer said he had been that he was under no pressure to sell players.
The Rovers manager added: "Dougie's comments are correct because everyone would want him in their team. Last season he scored a hatful of goals and that's something we're building the team around now.
"If we can provide him with more opportunities than he got last season, he's going to score more goals. The boy's a natural finisher."