Hearts: Swift takeover unlikely, says administrator at Tynecastle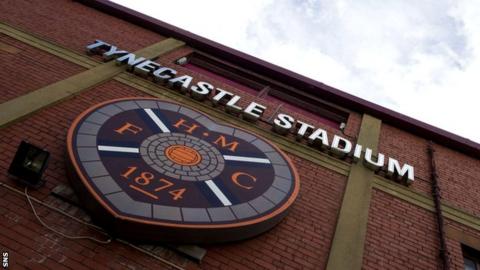 The administrators at Hearts say there are "three or four" interested parties in the financially-troubled club.
But Trevor Birch from accountancy firm BDO refused to reveal an asking price and indicated that a swift takeover deal is unlikely.
Birch thinks nothing will be concluded before the issue with UBIG's shares is resolved in a Lithuanian court.
UBIG, who are claiming insolvency, were the former parent company of Hearts and own 50% of the shares at Tynecastle.
"Until UBIG are in administration there is not likely to be any movement with those shares," explained Birch.
"The dealings with the Lithuanians may be very quick. We just don't know.
"I'm just anticipating that it might be a prolonged process and we have to be ready for that."
UBIG are owed £10m by Hearts.
Collapsed bank Ukio Bankas, who are in the hands of administrators, has 29% of shares and holds the Edinburgh club's stadium as a security against a further £15m debt.
Birch told BBC Scotland that close to £750,000 had been raised in the past two weeks through season ticket sales and other fundraising ventures.
On top of the 7,000 sold pre-administration, a target of 3,000 more ticket sales had been set to keep the club afloat until the start of next season and Birch said they were currently at the 2,800 mark.
"The message at the moment is so far, so good," said Birch.
"The response from the fans has been fantastic. It's given us breathing space to take things forward."
A deadline of 12 July has been set for formal offers for Hearts.
Gordon McKie, the former chief executive of Scottish Rugby, is leading a consortium of investors, while supporters' group Foundation of Hearts also hope to launch a bid.
"There are expressions of interest from more than 10 parties but if I was to put a figure on the number of serious ones, it's no more than three or four," said Birch.
"It's all about proof of funding, whether they have the wherewithal to conclude the sale and to run the club."
Last week, the Scottish FA issued Hearts with a notice of complaint for entering administration.
The club have until 8 July to respond to the complaint, with a hearing set for 18 July.
The Scottish Premier League has already handed the Tynecastle side a 15-point deduction for next season, as well as a ban on signing players.
Among the penalties the SFA could hand out are a censure, a fine or an extended signing embargo.