Real Madrid's Isco hopes move will boost his World Cup chances
Last updated on .From the section Football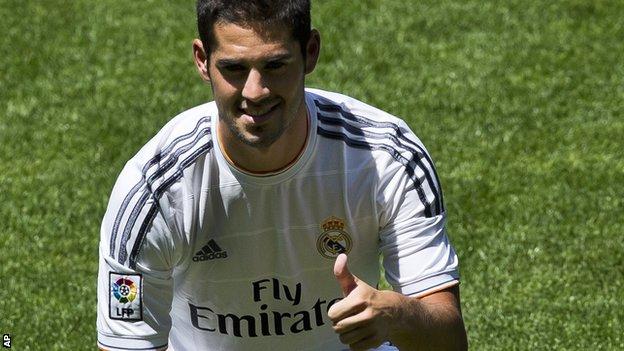 Real Madrid's new signing Isco says he hopes his move to the Bernabeu will boost his chances of making the Spain squad for next year's World Cup.
Manchester City were also keen on Isco, 21, with new manager Manuel Pellegrini having been his boss at Malaga.
"It's a great chance. If I do things well here, I might have an opportunity to be in Brazil," Isco said.
The playmaker signed a five-year contract after passing a medical.
Isco, who starred in Spain's victory at the European Under-21 Championship last month, said he had spoken to former boss Pellegrini and explained that he could not turn down the chance to play for Real.
"It's impossible to say no to Real Madrid and I'm convinced I will find a spot in the squad, although I am aware that it's not a slot that's going to be given away to me for free, I'll have to fight for it," he said.
"Pellegrini did want me, but when I saw that Madrid's offer was serious, I decided. I told Pellegrini that it was impossible to say no to Madrid."
Isco will wear the number 23 shirt - the same number used by David Beckham during his four seasons at the Bernabeu.
"We all know Beckham is a great player and he was presented 10 years ago on today's date with the same number, but I chose this number because it's my brother's birthdate," he said.