Abdulai Bell-Baggie's emotional return to Sierra Leone
By Phil Cartwright
BBC North West Sport
Last updated on .From the section Tranmere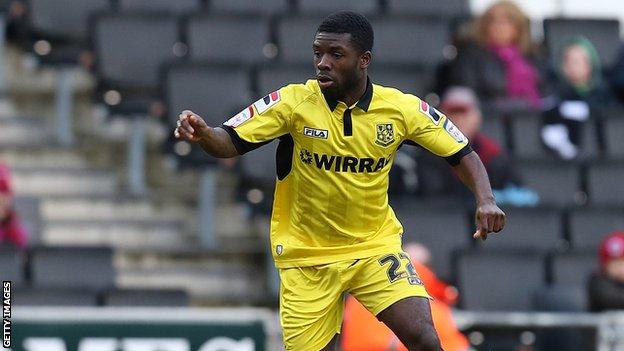 If Abdulai Bell-Baggie needed any further inspiration to make a success of his football career, then making his international debut for Sierra Leone has done the job.
The Tranmere Rovers winger was born there in 1992, at the start of a
Bell-Baggie moved to the UK at the age of seven and remained in Berkshire with foster parents when his immediate family chose to return home six years later.
Politically and economically, Sierra Leone is slowly recovering, but a large percentage of the population of about six million are still living in poverty.
For many, football provides welcome solace, as Bell-Baggie discovered last month when he received his first call-up to the national side.
"I've never seen anything like it - the passion for football back home," he told BBC Radio Merseyside.
"There's nothing there and all they look forward to is football. It drives you on and makes you content with what you have."
Bell-Baggie won his first cap during a World Cup qualifying defeat in Cape Verde on 15 June.
However, watching Sierra Leone draw 2-2 with Tunisia a week earlier in front of a crowd around 50,000 people in the capital, Freetown, and the moment he told his parents he had been chosen for the national team, provide the happiest memories.
"It was emotional for both parties, just to see my mum and dad," said Bell-Baggie.
"It's a massive honour, not just for me but for my family back home. It was good to see them at the stadium watching the game - it was fantastic.
"Most of the [Sierra Leone] players play in Europe and one or two play in Africa. It's a very good squad and they put up a good effort against Tunisia. I look forward to being part of the future of Sierra Leone football."
A year ago, Bell-Baggie's footballing future was at a crossroads.
While part of Reading's youth academy, he had represented England at Under-16 and Under-17 level, but having been released by the Royals in 2011, his career looked to be over before it had started as he struggled to even break into the first team during a spell at non-league Salisbury.
But Tranmere manager Ronnie Moore, who took a young Bell-Baggie on loan while in charge of Rotherham, It was a chance he has gratefully taken.
His form for League One club Rovers and also the opportunity to achieve the dream of playing for his country, although he admits the physical demands of his breakthrough season took their toll.
The 21-year-old added: "I played 34 games last season and my body hasn't been used to that because I've been out of the game for two years.
"Also being on international duty and going away for almost 20 days, I've only had a break of two or three weeks [before returning to pre-season training with Tranmere].
"I've come a very long way. Sometimes I sit down and think, and it is very emotional at times. I sometimes wonder how I got there. I'm just looking to build on it and look forward to the future."
Abdulai Bell-Baggie was speaking to BBC Radio Merseyside's Peter McDowall.