SPFL: Neil Doncaster survives turbulent spell in Scottish football

By Chris McLaughlin
Senior Football Reporter, BBC Scotland
Last updated on .From the section Football18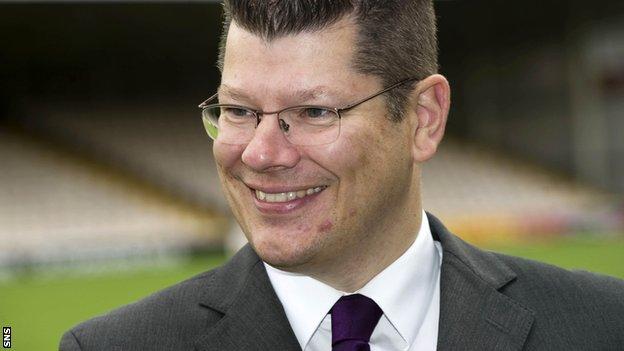 Neil Doncaster walked through the doors of Hampden in 2009 and into one of the most high-profile jobs in Scottish football.
Four turbulent years later, he is back, without ever having gone away.
Having won the sixth-floor Hampden battle against former Scottish Football League chief executive David Longmuir, he now takes charge of the new Scottish Professional Football League.
But is he the right man to lead Scottish football into the new era promised by clubs after months of infighting and years of instability?
Few will argue with his experience: he has spent time working at Norwich City, The English Football Association and The Football League.
Since moving north, he has been the public face of Scotland's top 12 clubs and the man tasked with growing the game in a market where finance has struggled to flourish.
Part of the brief was to bring in the broadcasters, secure top sponsorship and make the league profitable.
He oversaw record corporate deals with companies such as the Clydesdale Bank and broadcasting contracts were signed with Sky and ESPN.
But he was also at the helm during some of the darkest days in the league's history.
In the summer of 2012, Scottish football was on the verge of tearing itself apart after Rangers suffered administration and then liquidation.
Doncaster was the face and voice of the SPL as the clubs voted against allowing the Ibrox club back into the top-flight.
They dropped down to the Third Division and a bitter war of words between the two league bodies was ignited over who should be responsible for the Ibrox club's fate.
Some within Rangers believed that the SPL had turned its back on them and much of the fans' ire was directed towards the chief executive.
As Rangers settled into life in the Third Division, Scottish football looked towards restructuring as a way to bring the clubs back together and, more importantly, bring supporters back through to the turnstiles.
Doncaster was part of a commission set up to look how restructuring could be achieved; he put forward and backed several proposals including a new top league of 10 of 12 and of 14.
Months of debating, voting and more infighting followed before the new Scottish Professional Football League was finally born.
Doncaster said it was the change that Scottish football needed to move forward and put the past behind it, but the big question was: who would be the man to lead the new organisation?
Better the devil you know?