Giggs and Neville appointments show Moyes values stability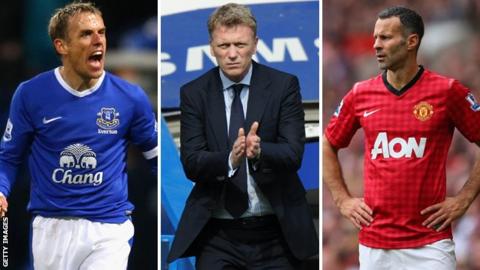 David Moyes makes his first public appearance as Manchester United manager at Old Trafford on Friday with a mix of old and new forming around him in his revamped backroom team.
If Manchester United fans questioned the credentials of those Moyes has brought with him from Everton, then the promotion and appointment of trusted figures from Sir Alex Ferguson's golden generation will provide a sense of reassurance.
Moyes's first serious move after succeeding the retiring Ferguson was to surround himself with familiar faces from his 11 years at Everton. They were experienced in Premier League terms but - like the new manager himself - did not offer the consistent trophy-winning pedigree demanded at United.
This is where the elevation of Ryan Giggs to player-coach and the arrival on the coaching staff of Phil Neville - after retiring at Everton at the end of last season - provide a counterpoint to the shortage of United experience in Moyes's new team.
Steve Round spent five years at Everton as Moyes's assistant and will fulfil the same role at Old Trafford. He also worked with Steve McClaren during his ill-fated time as England coach and at Middlesbrough. Round is respected within the game but is hardly a high-profile personality.
The 65-year-old Scot Jimmy Lumsden is perhaps Moyes's most trusted sounding board, having worked with him at Preston and Everton, while Chris Woods was goalkeeping coach at Goodison Park from 1998.
The work of Woods, in particular, will come under scrutiny after the vast improvement of Spanish youngster David de Gea under his predecessor Eric Steele led to his inclusion in the PFA's Premier League team of the year.
These may not be appointments to set the pulse racing among United fans as they wait to assess their new manager, but they are crucial to Moyes as he starts the process of succeeding one of football management's greats.
As happy as Moyes will be with the appointment of men he knows and trusts, he clearly also recognises the need to show a sure touch when it comes to understanding United - strengthening his new roots by working with those who know how this giant of a club operates.
And with the departure of Steele, Ferguson's respected right-hand man Mike Phelan and admired coach Rene Meulensteen, Moyes has looked to United past and present to do just that.
Giggs, 40 in November and Britain's most decorated player with 13 Premier League titles and two Champions League wins to his name, makes a natural progression. For all his enduring qualities as a player, even he cannot halt the passage of time forever - despite signing another one-year deal in March.
If anyone is attuned to what makes United tick, and the demands made on players and staff now Ferguson has gone, it is Giggs. He is scheduled to attain the Uefa Pro Licence next summer and will already be seen by plenty as an Old Trafford manager of the future.
No current player will have more respect among his United colleagues than Giggs and he could emerge as the perfect buffer between the dressing room and the manager's office.
Neville, 36, made a good impression on Everton chairman Bill Kenwright when he was interviewed as an internal candidate for the Goodison post once Moyes chose to move on. He could have worked under new Toffees boss Roberto Martinez but the pull of his boyhood club, where he won six titles under Ferguson, proved irresistible.
Already identified by the Football Association as a coach of real potential, he was chosen to work with England's Under-21 team at the European Championship in Israel. He will know how Moyes works after eight years at Everton and will have a natural feel for what is required at Old Trafford from his own successful career there.
And for a club that went for a measure of stability by appointing Moyes, a decision heavily influenced by Ferguson, rather than arguably the more glamorous but perhaps short-term choice of Jose Mourinho, they will provide more reassurance.
Indeed there may even be an element of a club looking even further into their managerial future with the appointments of Giggs and Neville. In addition, recently re-retired midfielder Paul Scholes has been working with the young players at the club, as has another former Old Trafford midfielder Nicky Butt.
Every manager, almost without exception, likes to have his own men around him when they take a new job. Moyes has done that with those he has brought with him from Everton.
Giggs is a nod to what Moyes found when he arrived at Manchester United while Neville can provide him with something of the past, present and future. He will regard that as the ideal combination.