Senegal leap back up rankings
Last updated on .From the section Football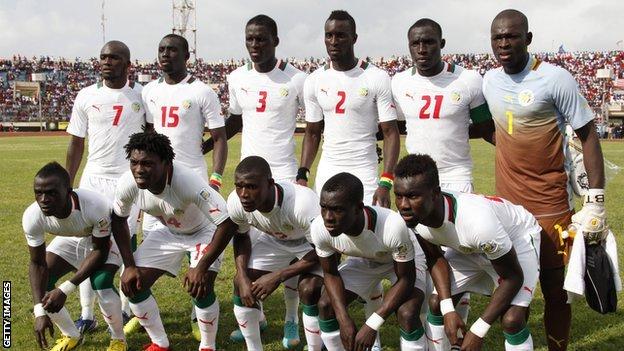 Senegal have made the biggest leap of any team in the latest Fifa World Rankings, climbing 25 places up to 74th globally and 17 in Africa.
There are also big improvements for other Africa nations in July's list.
Cape Verde have hit their highest ranking after moving up 23 places to sit 49th, while Guinea are 61st following a rise of 24 places.
In contrast, Central African Republic suffered the biggest slip of any team, falling 30 places to sit at 89th position in the world.
African champions Nigeria slipped four places and 2012 champions Zambia fell 11 places.
Ivory Coast remain the highest ranked African team, sitting in 13th spot.
The September rankings will decided which five nations will be seeded for the final play-off round of 2014 World Cup qualifying, ahead of the draw which is set for 16 September.
Spain remain top of the global list, while Brazil - who beat the Spaniards to lift the Confederations Cup - climb 13 places to make it into the top 10 at 9th spot.
Top Ten in Africa:
1. Ivory Coast (13 in the world)
2. Ghana (24)
3. Mali (28)
4. Algeria (34)
5. Nigeria (35)
6. Burkina Faso (42)
7. Tunisia (47)
8. Cape Verde (49)
9. South Africa (59)
10. Zambia (60)